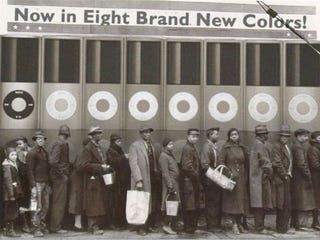 Hanging out at sites like Giz may have instilled in you an insatiable, pocket-emptying gadget habit. But now we're entering a new era-the old guys on the TV are saying that soon we may not even have pockets, let alone money for them. Don't panic though: You've probably got a wealth of gadgetry sitting underutilized in your living rooms, closets and basements, just waiting to be given powerful new (not exactly authorized) features. For free.
I've collected the best firmware replacements, software mods and homebrew hacks from the DMCA-flouting, EULA-hating frontiers of gadgetland that'll breathe new life into your stable of hardware and maybe-just maybe-let you feel that lusty new-gadget rush again.
Turn Your Xbox, Old PC or Apple TV into a Genuine Media Center

Xbox Media Center is about as refined as an unauthorized hack can get, playing back virtually any audio and video format, running a bevy of console emulators and still playing your Xbox games. To be honest, this should almost be viewed as a natural update for every Xbox, which at its core is a slow but functional PC with an easy TV connection. (Any actual PCs you have lying around can run a PC-ported version of XBMC.)
Boxee is a very slick fork of the XBMC project for Mac, and it's available for Apple TV. As shipped, the Apple TV works fine within the closed iTunes ecosystem, but Boxee's support for virtually every video codec and free online video like YouTube, CNN, BBC, and Revision3 will suit your new, more destitute lifestyle a bit better.
Difficulty: Easy to Moderate. Installation is pretty straightforward in most cases, with simple Boxee and XBMC setup programs available for Windows, Mac and Linux. Before you load XBMC, though, you have to mod your Xbox with one of these methods, many of which require a specific game. After that it's all install wizards and lollipops.
Installing anything on the locked-down Apple TV used to take some serious finagling, but there are now tools that will create an automated Boxee installer on a flash drive. Just plug the drive in, restart and you're good to go.
XBMC Online Manual
Boxee
Make Over Your iPod, Archos, iRiver or Sandisk with Rockbox
It's hard to look at the current generation of media players and not admire their diverse capabilities and extensible software platforms. That's not to say that your 5th-gen iPod doesn't play back music perfectly well, or that your iRiver H10 still isn't a kickass media player, but they do feel a bit dated. Rockbox replaces your MP3 player's operating system with something more substantial, effectively making it a completely new device. You get endless codec support, advanced audio options, dozens of games, useful apps like a calculator and a text editor, plus you can choose from tons of different interface skins for a unique look and feel. Rockbox's tweaking possibilities mean you will earn admiring "what is that?" questions from friends, and it won't cost you a thing. If your player isn't supported yet just hold on-everything from the Zen Vision:M to the Toshiba Gigabeat S has a fairly active dev team.
Difficulty: Easy. Rockbox has an automated tool called the Rockbox Utility available for Windows, Mac and Linux. It does the work for you. Even better, it often automatically configures your player to dual boot with its original OS.
Rockbox Official Site
Convert Your PC or Notebook Into A Much More Expensive Mac
It's undeniable that Macs are too expensive. For many, they are considered a luxury item whose added cost doesn't justify the benefit. Luckily Apple's switch to an Intel platform opened up a world of unauthorized OS X installations which can turn your existing PC into a powerhouse Mac Pro workstation, or morph your MSI Wind or Asus EeePC into the Mac netbook that should be in their goddamn product line anyway. Check the hardware compatibility list to see if your PC is eligible for the upgrade.