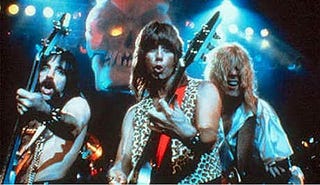 The upcoming
This Is Spinal Tap
Blu-ray is of course exciting to me. After all, it's been what, like seven years since I last hurled money at Rob Reiner, Christopher Guest and the rest of the lot for their well-deservedly best-selling DVD special edition. But while the Blu-ray will come with an intriguing-sounding game, this latest repackaging of the classic, due out January 20, 2009, could easily be dead on arrival, having choked on not necessarily its own vomit. For starters, it's not recorded in Dubbly. Nope, according to the press release, it's got a 5.1 DTS HD Lossless Audio track, which is all well and good if this were, say, the
Lord of the Rings
trilogy, or Rob Reiner's other masterpiece,
A Few Good Men
. But this is
Spinal Tap
—er, that is,
This Is Spinal Tap
! No Dubbly, no dice. I'm actually not convinced that a 1080p transfer will change the emotional tone of the movie. This is supposed to be a handheld, herky-jerky film, not some sweeping epic. How can high-def do more for those intimate moments—Fran Drescher almost not annoying, the late Bruno Kirby explaining the joy of Frank, Harry Shearer, aka Derek Smalls, trapped in his body-snatcher pod. Those don't improve with resolution. While most of the Blu-ray's special features are identical to those from the seriously awesome DVD, the addition of a BD-Live "Create Your Own Band" game does raise an eyebrow or two. The press release provides very little about the game except that you use it to "create and customize your very own rock-star avatars," and that it will "send those other rock games back to the high-school auditorium." Bold words, MGM Home Entertainment—my only hope is that Christopher Guest, Michael McKean and Harry Shearer are on your ass right now, making sure it's the most
intentionally
funny thing ever to come to BD-Live.
Press release topped with the requisite "11" joke:
THE HIGH-DEF EQUIVALENT OF ELEVEN ROCKS OUT WITH THE BLU-RAY DEBUT OF THIS IS SPINAL TAP MGM Home Entertainment Releases Rob Reiner's Hilarious Rockumentary Starring Christopher Guest, Michael McKean and Harry Shearer Debuts on Blu-ray Disc January 20th Brand New BD Exclusive Game, "Create Your Own Band" Sends Those Other Rock Games Back To The High School Auditorium CENTURY CITY, Calif. – Ring in the New Year with the revolutionary UK rock band as This is Spinal Tap screams its way to Blu-ray Disc January 20th from MGM Home Entertainment. Directed by Academy AwardÒ nominee* Rob Reiner (A Few Good Men), This is Spinal Tap is Reiner's directorial debut and is the "…absolutely inspired film" (Roger Ebert, Chicago Sun Times) responsible for introducing mock documentaries to mainstream American audiences. Renowned comedy director Christopher Guest (Best in Show), Academy AwardÒ nominee** Michael McKean (A Mighty Wind) and Emmy AwardÒ nominee *** Harry Shearer ("Saturday Night Live") star as the three members of the fictional heavy-metal/hard rock band Spinal Tap. Satirizing the wild personal behavior and musical pretensions of hard-rock and heavy-metal bands, This is Spinal Tap presents a second-rate band made up of aging band members who are desperately trying to cling onto what little fame they used to have. This is Spinal Tap also includes cameo appearances by renowned actors such as Billy Crystal (When Harry Met Sally), Anjelica Houston (The Addams Family) and Ed Begley, Jr. (Pineapple Express). Inducted into the National Film Registry in 2002, This is Spinal Tap has left an indelible mark on pop culture as evidenced by its numerous imitators and its esteemed spot at number one atop Entertainment Weekly's "Top 50 Cult Movies of All Time." For the first time fans can own all of the special features included on the previous standard-def as well as Laserdisc versions with a brand new BD-exclusive game, "Create Your Own Band." This is Spinal Tap Blu-ray Disc will be available for the suggested retail price of $34.99 U.S. / $37.99 Canada. * 1993: Best Picture (A Few Good Men) ** 2004: Best Music, Original Score (A Mighty Wind) ***1980: Outstanding Writing in a Variety or Music Program ("Saturday Night Live") Synopsis: In 1982 legendary British heavy metal band Spinal Tap attempt an American comeback tour accompanied by a fan who is also a film-maker. The resulting documentary, combined with powerful performances of Spinal Tap's pivotal music and profound lyrics, candidly follows a rock group heading towards crisis, culminating in the infamous affair of the eighteen-inch-high Stonehenge stage prop surrounded by dancing midgets. Special Features: The This is Spinal Tap BD release will be authored in BD-Java presented in widescreen format (1.78:1 aspect ratio) with English 5.1 DTS HD Lossless Audio. Bonus features include: · NEW Create Your Own Band Game – Create and customize your very own rock star avatars · Commentary by Spinal Tap · Commentary by Christopher Guest, Michael McKean and Harry Shearer · Commentary by Director Rob Reiner, Producer Karen Murphy and Editors Robert Leighton and Kent Beyda · Deleted Scenes · Flower People Press Conference · Spinal Tap appearance on "The Joe Franklin Show" · Music Videos o Gimme Some Money o (Listed to the) Flower People o Hell Hole o Big Bottom · Theatrical Trailer · Cheese Rolling Trailer · Rock and Rolls Commercials About Metro-Goldwyn-Mayer Inc. Metro-Goldwyn-Mayer Inc., through its operating subsidiaries, is actively engaged in the worldwide production and distribution of motion pictures, television programming, home video, interactive media, music and licensed merchandise. The company owns the world's largest library of modern films, comprising around 4,100 titles. Operating units include Metro-Goldwyn-Mayer Studios Inc., Metro-Goldwyn-Mayer Pictures Inc., United Artists Films Inc., Ventanazul, MGM Television Entertainment Inc., MGM Networks Inc., MGM Domestic Networks LLC, MGM Distribution Co., MGM International Television Distribution Inc., Metro-Goldwyn-Mayer Home Entertainment LLC, MGM ON STAGE, MGM Music, MGM Worldwide Digital Media, MGM Consumer Products and MGM Interactive. In addition, MGM has ownership interests in international TV channels reaching nearly 120 countries. MGM ownership is as follows: Providence Equity Partners (29%), TPG (21%), Sony Corporation of America (20%), Comcast (20%), DLJ Merchant Banking Partners (7%) and Quadrangle Group (3%). For more information, visit www.mgm.com. A recognized global industry leader, Twentieth Century Fox Home Entertainment LLC (TCFHE) is the worldwide marketing, sales and distribution company for all Fox film and television programming on DVD, Blu-ray Disc (BD) and Digital Copy as well as acquisitions and original productions. The company also releases all products around the globe for MGM Home Entertainment. Each year TCFHE introduces hundreds of new and newly enhanced products, which it services to retail outlets — from mass merchants and warehouse clubs to specialty stores and e-commerce - throughout the world. Twentieth Century Fox Home Entertainment LLC is a subsidiary of Twentieth Century Fox Film Corporation, a News Corporation company. # # # This is Spinal Tap Blu-ray Disc Street Date: January 20, 2009 Pre-book Date: December 10, 2008 BD Price: $34.99 U.S. / $37.99 Canada Catalog #: M113258 Total Running Time: 83 minutes MPAA Rating: R Closed Captioned: Yes