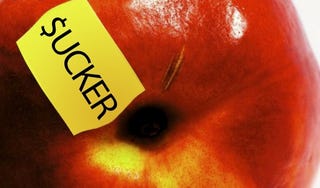 The Apple Tax is a popular term for people who believe Macs are overpriced. It's usually screamed at the top of lungs (or the blog-commenter equivalent), but it's rarely been dissected. The truth about the Apple Tax is straightforward on one level-you will pay more for the same specs on a Mac-and surprisingly complicated on another. It definitely exists, but it's not a flat tax. Even avoiding build quality and OS differences by looking only at Apple products, a Mac's price tag is justified in some configurations while in others, it's downright punitive. If you're a PC user thinking about switching, or just a Mac user looking to upgrade, our comprehensive look at the Apple Tax is for you. It's what you really get for what you pay.
In the case of Macs vs PCs, you could argue that customer support, the Leopard OS and design elements such as the new unibody construction and glass trackpads are what make up the Apple Tax. The only problem with this logic is that, when you compare Apple computers alone with no PCs in sight, the tax still swings wildly.
Click on the chart for an even larger view
Here we've compiled for you two massive tables of raw specs. One covering the lower-end MacBook, new and old, and its best PC equivalents; the other covering MacBook Pros in the same manner. Each is organized by price, lowest to highest, in order to show value tradeoffs. While they're broken into two charts for readability, really you can think of them as just one-prices and capabilities of the MacBook line bleed into those of the MacBook Pro now more than ever before. Just because they're easy to read, doesn't mean they're easy to read, though.