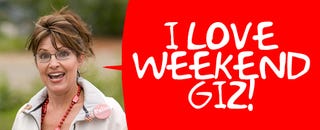 Yeah, yeah. You're still nursing a weekend Sarah Palin hangover after her visit on SNL this weekend. We get it. Time for some serious atonement with the best of Gizmodo's weekend coverage: • The British government admits on
ordering fighters to fire against UFOs
over their airspace. • IBEX launched on Sunday, in orbit by Monday,
doom of mankind
known by Tuesday? • There's Mile High Stadium, and then there's a
mile high Dubai skyscraper.
• Battle of the high end TVs:
Mitsubishi versus Pioneer
. Who wins? • The
Sony LED Bravia KDL-55XBR8
may very well be the best LCD TV ever. • Spore sold a lot of copies, but it can't hold a candle to
anti-virus software.
• The new MacBook Pro is easy on the eyes, but
hard on the battery.
• I'm going to name my
new Eden speedboat
the Morning Wood. • High tech truck hijackers were
a bit too smart for their own good.
• They say the $60,000
Vacheron Constantin Quai de l'Ile Watch
is impossible to fake. Won't you try anyway? • The
Down Low Glow
is not an STD. It's for bikes! Now, go forth and eyeball the great tech and gadget news that graces Gizmodo's homepage each and every day.