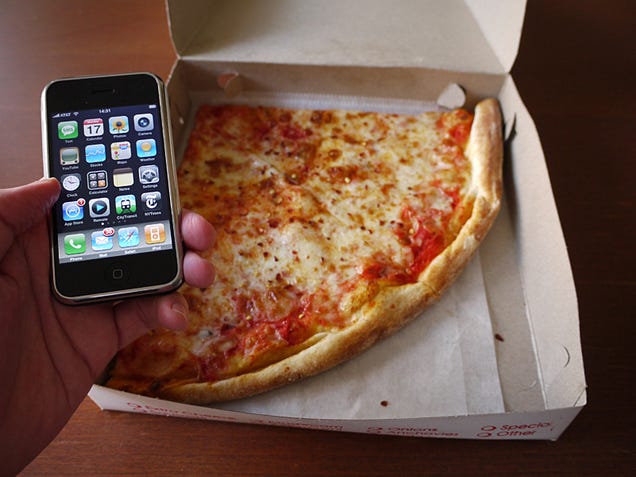 Today was a very special day in pizza tech news. First, Dominos, oh boy Dominos: you've automated pizza ordering and delivery in a way that I never specifically thought about, but now that it's out, have already welcomed as a new sign that humans are making progress in this world.
You can now order, pay for and track delivery of a pizza from a graphical menu on your TiVo
. And on top of that, a free medium Papa John's pie can be yours via its now-painfully-antiquated web delivery system all for
becoming a fan of PJ's on Facebook
. But oh do we still have some ground to cover. I'm envisioning a world of platform-agnostic pizza acquisition apps on every web-connected device everywhere, and it's a world in which I'm pretty sure you'll want to join me in delicious reality.Granted, we live in a pretty good time right now as far as zero-human-interaction, chainstore-pizzeria-to-mouth-in-shortest-time-possible pizza acquisition systems. You can go to any of the major chains' web sites and have a pie on the way in just a few minutes. Maybe a side of cheese sticks too? And hey, we're running out of Coke. Throw in a two liter. I can't be bothered to go out in this cold/rain/beautiful weather. They'll even save your credit card number so you don't have to even think about money beyond the five seconds the subtotal is on the screen. And tip's on the card. I will admit that I was late to embrace the online pizza ordering paradigm. I live in New York City, and I can literally walk to the end of my block and get a delicious hot NYC slice whenever I want it. That is, when the King doesn't feel like shuttering the doors for no clear reason at prime mealtimes. Which he does on a disappointingly frequent basis. But I've been doing it more lately—learned from a couple of friends who have Papa John's online ordering down to a science—and I must say I like. Fitting with my wish, we also live in a pretty good time as far as being able to customize our devices with third-party applications.
Pizza Hut has a Facebook app
that can order your pizza. That's a good step, even though it's no different from the main websites, save for the ability to broadcast to all your friends when you place a couch order. But please, further. Take Netflix as an example. Watch Instantly is now on Blu-ray decks from
LG
and
Samsung
, the
Xbox 360
, the aforementioned
TiVo
and of course the
dedicated Roku box
, with more partnerships on the way. This is the model we should be following as far as pizza ordering is concerned—the path to the life that I've imagined. So it is you, major pizza chains, that I address. Embrace our software-is-king future. Open up an API into your respective ordering systems, or better yet, tie them together into one magical mozzarella, tomato and dough delivery web framework. And after that's all set up, encourage the use of this API by manufacturers which will soon, in turn, make
everything
an application platform in order to respond to this exploding demand for pizza ordered from the couch. Don't just stop at an iPhone app—there's no reason there shouldn't be an App Store for every web-connected device in your home. They say that where the porn industry goes, tech follows. And it's true. But I say let pizza, glorious pizza, be the trailblazer. Wake me up when this is how things are—I'll be asleep on my couch, surrounded by empty Papa John's garlic sauce cups.