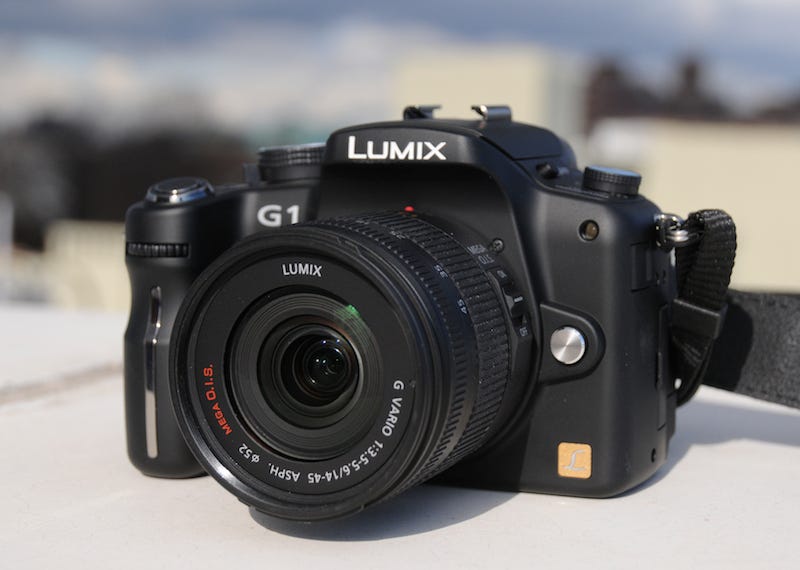 Companies that aren't Canon or Nikon have it rough in the digital camera market-particularly outside the cheap point-and-shoot area. Some band together for strength in numbers, creating cooperative standards like Panasonic, Olympus and Leica's new Micro Four Thirds system-a spec for smaller cameras with digital viewfinders like a compact, but interchangeable lenses, manual controls and higher performance like a DSLR. We tested Panasonic's 13-megapixel Lumix G1, paying close attention to the fact that it's the first contender in a totally new camera category and-like that other G1, the Android smartphone-it sets the stage for what's to come.
There is a single photo that you should think long and hard about before deciding whether to plunk down $800 for the G1. And oddly enough, it wasn't even shot with the camera itself. Want to see it?

Yeah, there it is-the G1 posing next to my Canon Rebel XT. As you can see, for all practical purposes, they are the same size and shape. The G1 is smaller by a hair, but unless you're carrying both at the exact same time, it's a difference you would never, ever think about. This seemingly small fact completely undermines the system's potential to set itself apart from the big boys' entry-level DSLRs, which are the G1's direct competitors whether Panasonic likes it or not. The G1 fails to deliver on Micro Four Thirds' potential to produce cameras with small, unique form factors-those Leica-style "digital rangefinders" we pined for when the system was announced-that could be very worthy of your consideration. For now, an entry level Canon or Nikon DSLR is a better bet, coming in with humongous lens and accessory systems and lower price tags.