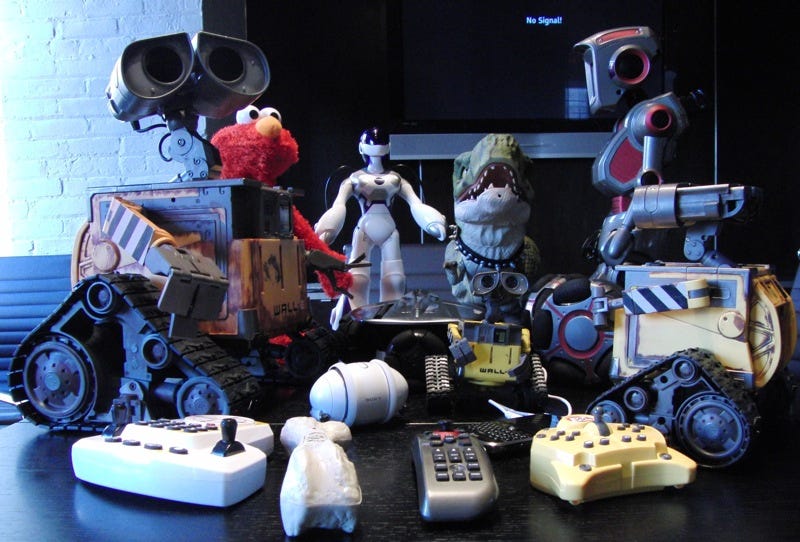 Everyone wants love, companionship and contact. Those who can't get it from humans can turn to the latest crop of hot toy robots: Wall-E in three sizes, WowWee's Rovio, Femisapien and Mr. Personality, the dino D-Rex, multi-talented Elmo Live and Sony's enchantingly personable Rolly music player. Each exudes a desire to be your loyal friend from every noisy servo and glowing LED. But which should you choose?
Keep in mind, though two of these list for $400, most cap at $250, and they're all toys. They don't have a heck of a lot of AI, though they do have an impressive array of user-triggered functionality and some goofy "spontaneous" behavior. You ain't getting C-3PO no matter where you turn, not even R2-D2, but there's something cool about each of these:
Mr. Personality - $245
This is one weird bot. Turn it on and it will act like one of the many "personalities" you have downloaded to it, telling jokes, reading fortunes and interacting with you along the way.
Pros: 3-legged, multi-directional wheels move in all directions easily; multiple personalities technically mean relief from boredom; depending on the personality, it'll call you "master"
Cons: The default personality is very annoying; not enough functions to stay entertaining; obstacle sensors are too sensitive
Worth the money? Doubtful. Depending on the power of the development community some fun personalities may emerge, but they are severely limited by the options on the remote.

Rovio - $240
Maybe the most technical bot of the bunch, the Rovio is a webcam-on-wheels controlled via an internet interface. With some smart maneuvering, you can snoop on your daughter's date in the living room from the privacy of your bedroom. Or, if you have your own domain server, you can control the Rovio from anywhere in the world. It has major limitations, like an awful camera and outside of Internet Explorer you can't hear any sound, but its API allows customization so there's true potential that has yet to be reached.
Pros: Good looking, highly interactive UI; like Roomba, can return to its base to charge itself when batteries run low
Cons: Seriously shitty webcam; setting it up on a Mac is torture; if you bought this thinking you can easily control it from anywhere in the world for free you're SOL
Worth the money? Not yet. The Rovio is a great concept, but you'll be much better off waiting for version 2.0... or maybe 3.0.

Femisapien - $50
She's the female companion to Robosapien, and she'll blow you kisses, dance to music or speak in her very own gibberish language with you. She doesn't do anything very fancy, but she's the only girl here, so she looks better doing it than most of these other bots.
Pros: Fairly interactive; relatively inexpensive; giant robot boobs
Cons: Command system very complicated; routines aren't all that exciting
Worth the money? Only if your name is Zoltan.