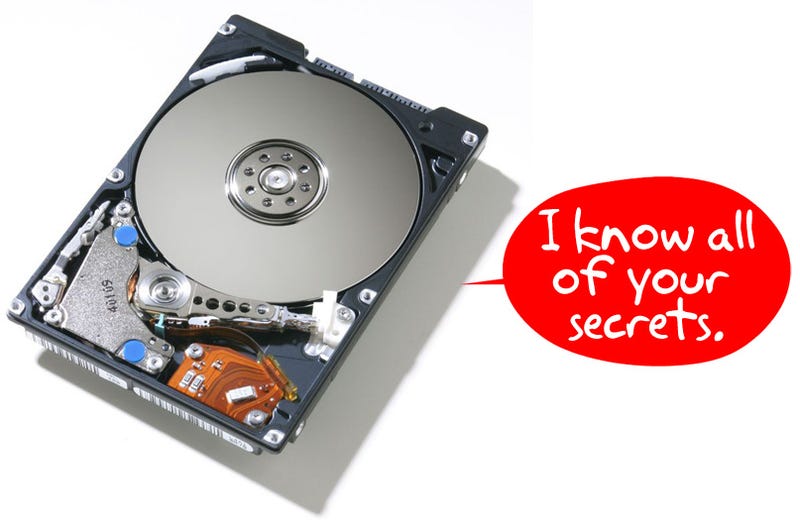 Some say that the end of the trusty hard drive is near, killed by SSD. But let's not be so quick to give up on a technology that stores a whole terabyte for $100.
It'll be years before solid-state flash-memory disks (in this case usually referred to as SSDs) let us cheaply bank the same amounts of data as trusty old hard disk drives for a reasonable price. So, you might as well know how they work, 'cause honestly, they'll have a place on or next to your desk holding all the crap that won't fit on daintier solid state drives—HD movies, huge pictures, music and who knows what else if you're Jason Chen.
What Goes on Inside
The reason hard drive is abbreviated as HDD is that it's really a hard disk drive. Inside you've got what's called a "platter," which is a magnetized recording surface that spins around really really fast, with a head that zooms across the disk to read and write data, think kinda like a record player, except that the head never actually touches the disk except, as you will see below, when bad things happen.
Wikipedia" />
Hard drives also come in a few different sizes, with 1.8", 2.5" and 3.5" being the most common, but they've been bigger (and smaller). 3.5" is for desktops, 2.5" is for notebooks (or obsessively quiet desktops), and 1.8" is what goes in classic iPods, MacBook Airs and other small portable devices.
The more platters a drive has, the more data it can hold, but most advances in storage have focused on increasing storage density. A really high-capacity drive can have four platters, while many 3.5" desktop models and some elite laptop 2.5" drives have three platters. Most laptop drives and all the 1.8" portable-device drives that we know of are limited to two platters.