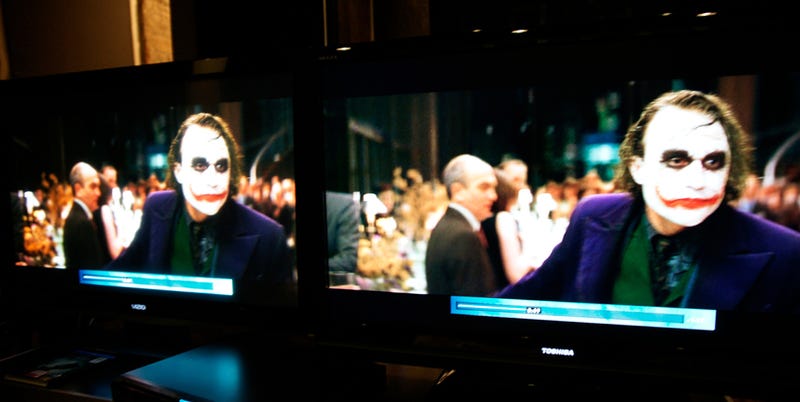 With so much financial strife, it sounds insane to splurge on an HDTV now. Good thing there are 40" or bigger sets to be had for under $900. But which ones don't suck?
To find out, we grabbed five HDTVs you can find on the street for under $900—some require a little snooping to find that price, but they're out there. We've got four LCDs and one plasma, with four of them were discount brands, while one was from a pretty top name brand. We're looking at a few things: are any sub-$900 TVs actually watchable? Are any lower-tier brands as good as big name brands? And finally, which TV delivers the most bang for the buck?
The HD Guru Gary Merson and Cnet senior editor for TVs David Katzmaier—two guys who know more about HDTVs than I know about my mom—graciously came by to help us calibrate the sets, in order to coax the absolute best picture out of them and give us some insights on what we should look for.
Here's how we set up the tests: Every set was calibrated with a THX Optimizer disc, with an emphasis on getting the darkest possible blacks while maintaining detail and acceptable brightness, since blacks are LCDs' big weakness, and the most likely attribute to suffer in cheaper sets—in more expensive sets, like Sony's LED-backlit Bravia XBR8, a lot of what you're paying for are deep, detailed blacks. From there, we tested the sets playoff style—two at a time with a 2-way HDMI splitter using The Dark Knight on Blu-ray as the test disc because it's a beautifully shot film with all kinds of perfect HDTV test scenes, and its excellent master makes it solid source material. Plus, it's the one Blu-ray movie everyone will own. And it's awesome. So, two may enter, only one may leave: The set that wins the showdown advances to the next round. Here are the five cheap HDTVS: