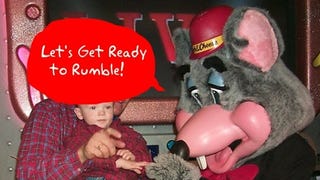 Chuck E. Cheese, the arcade with robot band, is a violent place. An uninvited kid joined a birthday party. And when the cops showed up, they found a rumble between 40 bloodthirsty parents.
That's what the chain gets for serving beer to parents already trying to cope with brats and arcade machine sound effects for hours on end. Not to mention the 30 minute performance of the Rocka-fire explosion animatronic band, playing on a 30 minute loop. Also, throw in the parental insincts to protect your kid from being sat on by the fat kid in the ball pit, and you've basically tossed a match to the powder keg.
The environment also brings out what security experts call the "mama-bear instinct." A Chuck E. Cheese's can take on some of the dynamics of the animal kingdom, where beasts rush to protect their young when they sense a threat.
Parents aren't able to contain their blood lust anymore, put under the pressure of this scenario, and it is happening in Chuck E. Cheeses all over the country, in statistically significant numbers, according to various local police officers. Finally, a mainstream paper, the WSJ, reports what I've known since I worked there as a teen: Chuck E Cheese is pure evil. Here's are the blow by blows of a few particularly gruesome fights, including one involving 85 people: