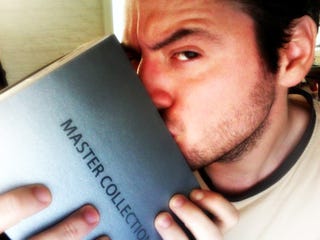 I've spent more than a month working with Adobe Creative Suite 4 Master Collection. I'm impressed. It pushes the envelope again with new tools and enhancements that will save a lot of time.
Apart from using a text editor, I spend most of my work time in Facebook Illustrator and Photoshop, which I've been using since I was in college back in 1748 or 1994-I can't remember. Until a month ago, I was happy with both programs in their Creative Suite 3 incarnation. Sure, they aren't perfect, but they are fast in my 24-inch iMac, and they have all the features I wanted. Or so I thought. I didn't find myself wanting anything more than a few fixes here and there, maybe just enhancements to this or that other tool, like transparent gradients in Illustrator.
I thought that CS3 was pretty much unbeatable for most of the bread-and-butter stuff that I or any other illustrator or photographer can do. As it turns out, CS4 adds enough feature punch to make the upgrade worth it.
The damn tabs
Let's get this one out of the way now. There's nothing fundamentally wrong with any of the programs in CS4 except for one thing: The new absolutely horrible tabbed user interface, an idea full of good intentions but poorly executed, to the point of being bad for your workflow.
How Adobe engineers thought this was going to be useful to anyone, I don't know. Every person I've seen working in Photoshop has different windows open, at different sizes, in different places and even spawned across multiple monitors. This is needed to move things around from one document to another, to clone, or just compare images. Sometimes I end up having ten or twenty different documents open because I keep working with several projects at the same time. If you look at my workspace, it may seem anarchic to you, but it's not for me. Mentally, I organize things how I like them to be, optimized for my workflow. And then, I surf through all of this windows melee at lightning speed using Exposé on the Mac.