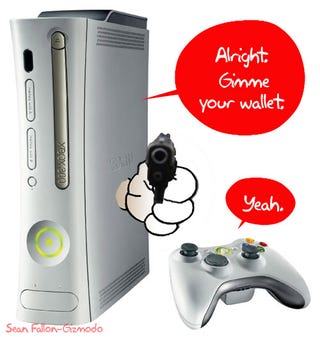 I know—a juicy sale price on a gadget is hard to resist. But the extras associated with these items are the real killers. It's time to look beyond the tag in search of values.
Game Consoles
Xbox 360: Let's say you scored an Xbox 360 Pro bundle this holiday for $240. Not bad—that's a 20% savings. But you still might need/want an extra wireless controller, an HDMI cable, a wireless adapter and two play-and-charge battery kits. All of a sudden, the price jumps up to $440—nearly double the initial cost.
While you may be stuck with Microsoft wireless controllers, there are workarounds for the other components that can help bring costs down. Going with trusted 3rd party manufacturers like Nyko on peripherals is one way to do this. Their version of the play-and-charge battery kit for your controllers will save you $10 right off the bat. As for the wireless adapter, you can set up a DIY version fairly easily using a cheap router, a few feet of Cat 5 cable and open source DD-WRT firmware—saving you as much as $70. You can even use your laptop as the wireless adapter and save the entire $100.
By using your own HDMI, you can save as much as $45. And if you want to send digital audio separately, there's a simple hack to your included AV cable. All in all, the total cost of of your Xbox 360 hardware can be reduced from $440 to as little as $325.