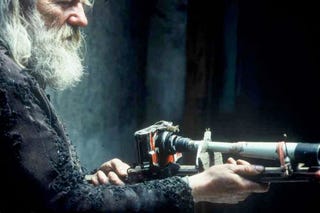 Whether your camera is brand new or an aging holdover, you want to accessorize it, but you don't want to pay. By now, you know the Dealzmodo Hack drill: Paying is for suckers.
For decades, photographers have engineered little tricks to get the most out of their cameras, and most of them have carried just fine over the digital divide. Here are a few, with some newer additions collected by our friends at Lifehacker.

Build your own stabilizer out of string
Shooting long exposures without something to prop your camera on is a pain in the ass, not to mention a blurry mess. So is carrying a tripod. This video shows how to build a pretty effective foot-looping camera stabilizer out of some string, a bolt and a washer. The results are surprisingly good.