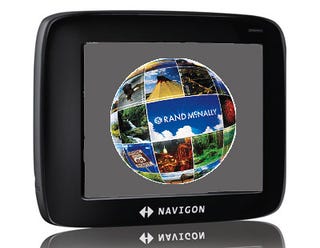 Rand McNally has been in the travel biz so long, I wouldn't be surprised if they made maps of Pangaea. With that kind of history, you know you can trust their Navigon GPS travel guides.
Specifically, Navigon has partnered with Rand McNally to bring Scenic Routes and City Guides to their GPS devices.
Rand McNally's Scenic Routes and City Guides provide comprehensive travel information to aide
NAVIGON device owners during the trip planning process and while they are on the road. Scenic
Routes provides more than 250 scenic routes and pre-planned trips with coverage in all 50 states
and Canada for travelers searching for routes featuring the most beautiful vistas and landscapes.
Rand McNally City Guides provide information on the best attractions and landmarks for more than
1400 US and Canadian cities. NAVIGON owners using the City Guides feature will have access to
overviews of cultural attractions, family friendly activities and historic landmarks.
This isn't the first foray Rand McNally has made into the GPS market, but my guess is that this endeavor will be far better received. My hope is that the software will be available on other GPS brands down the line, but in the meantime Rand McNally travel guides will be available on select Navigon units in Spring of 2009. It will also be available online for $20.