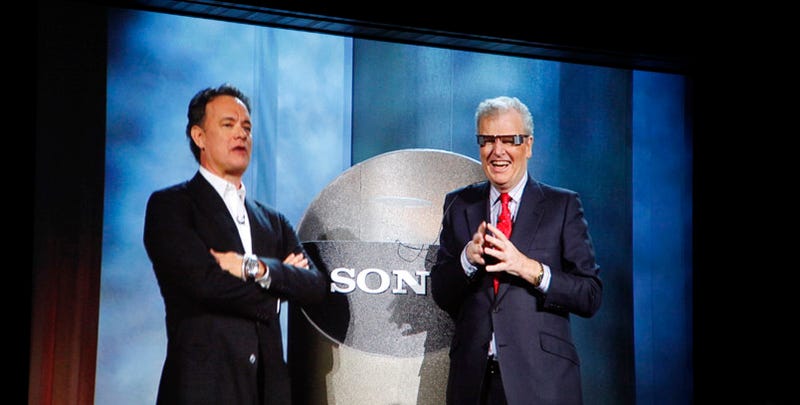 The second real day of CES 2009 kicks off with Sony CEO Howard Stringer's keynote speech. Sony said yesterday they saved BIG product announcements for the gadget emperor himself. What are they? (Besides Tom Hanks.)
Apparently, a trailer for Angels & Demons. Tom Hanks is here! He has Betamax regret! His first real gadget was a Sony Trinitron. Hilariously self-conscious, mocking the fact he's shilling for Sony. All he ever sees is Sony, Sony, Sony. And uses Sony Sony Sony. Except the teleprompters! LG.

Here's Sir Howard Stringer. Tom: "I'm whatever Sony wants me to be, Howard." Tom is hilarious.
3D glasses, "unlike any other prototype before. They let you watch a movie while walking around. "Tom why don't you try?" "Oh look, they're so cool and hip...They're going to get even better than they are now? I'll be checking the Fedex." "Will you take the hold off my paycheck for Angels and Demons now?"
Tom exits, being pulled into realm of Casio and Samsung. "Howard save me, you're a knight!"
Howard: "I'm not recession proof." He has seven principles for the industry: Fusion of industries, open technologies (Linux, consumers expect choice), social networking, squeezing more money out of consumers (he calls this a "value chain" and "good business," go green, etc. Nothing unobvious or mindscrewingly revolutionary.
By 2011, 90 percent of Sony products will connect to Internet and each other.
Heeeeere's the G3 Wi-Fi web browser camera. They've already uploaded photos of Tom and Howard using the camera to Picasa, and then sent it to a Bravia TV on stage. Available now for "an extraoridinarily reasonable price."