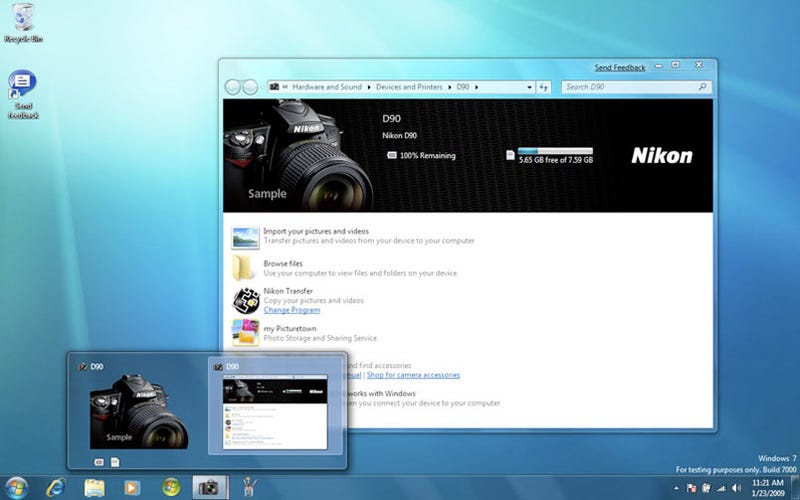 With each version of Windows, Microsoft likes to brag about how much more support they have embedded for other people's devices. I remember at the XP launch, Regis Philbin, standing next to Bill Gates, plugged in a Wi-Fi PC card and "it just worked." Though I could never replicate that experience to save my life, times have changed and now, with Windows 7, there's now a lot of excellent support and control of third-party gadgets.
DEVICE STAGE
Many operating systems have pre-installed drivers for printers, scanners and other products, but Device Stage takes the concept to a ridiculously thorough level, with not just drivers but specialized icons, pop-up menus and XML pages full of things you can do with your camera, printer, scanner, phone or whatever.
Devices and Printers
Everything you plug in or can reach via Bluetooth or the network appears in the Devices and Printers page, clickable from the Start menu. Gadgets that have been programmed for Device Stage appear with specific icons representing them; those that haven't still get one of many different icon categories. Click once on anything on the page, and the contextual ribbon menu at the top changes to reflect the functions of the device you clicked.

Services Splash Page
When you double-click a Device icon, you get a pop-up splash page decorated by the company who made the gadget, usually with functions you can do on your computer (browse files, import pictures, customize your printer) and stuff you have to go out to the web to do (order ink, visit online gallery, etc.). Though some of the services are nice, they can get shamelessly promotional. You probably won't spend a lot of time on this page, though, because most options are reachable in an even better way, via the taskbar.

Taskbar Icon and Menu
The real meat of Device Stage is found in the amazing Windows 7 taskbar itself. Here, you can see what's connected, and instead of launching some big cumbersome window, you can right-click the icon itself and get most if not all of the services right there in a pop-up. The only thing better would be the ability to customize the stuff that appears in that menu, but it's a start. Not all devices automatically show up in the Taskbar, probably because it could get annoying to have a Taskbar full of stuff. Cameras always do, but printers only do when they're in use, or when you double-click them from the Devices and Printers page.

Availability of Device Stage Content
The big hitch here is that the device manufacturer, be it Canon, Motorola or Apple, has to build a splash page and a services list. If they don't, you get a generic icon and generic services (open folder, import content, etc.). Our guess is that most manufacturers will get on board, but it's early. Also, though supported devices do show up instantly when plugged in, some services, like advanced printing and scanning features, require the install disc, so it's not always a guaranteed automatic play.
[More Device Stage details and images]
Multiple Monitors

Got an extra monitor lying around? Hook it up brainlessly using Windows 7 in literally two steps.
FILE PRODUCTIVITY TIPS
Once files are off your devices and onto your computer, there are new integrated ways to work with those files. Here are some tips for extra productivity: