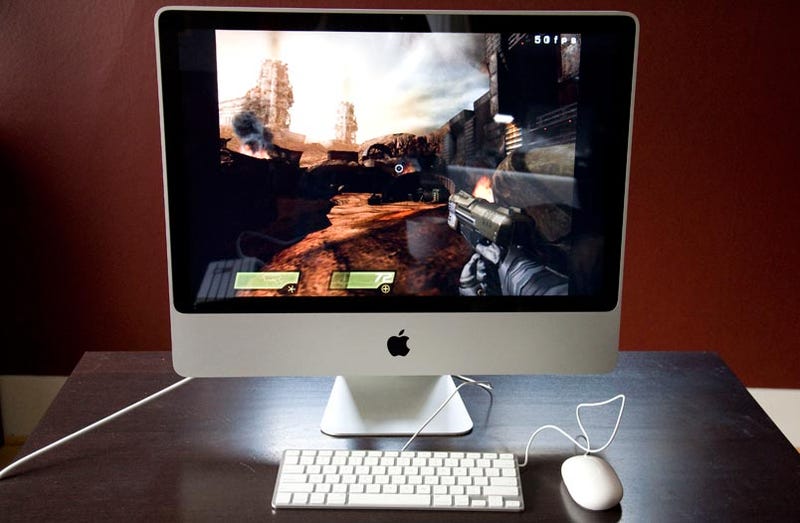 Apple may seem different than other companies, but the recession is kicking their ass too. The move they made with the new iMac was the smartest they could make under the circumstances—it's a great deal.
In this new iMac release, Apple didn't invest in a radical new design. That sort of thing doesn't go over in an economic downturn. The case is identical to all other iMacs since August 2007, down to the brushed aluminum body and the occasionally annoying high-gloss screen. What Apple did instead—something they won't let you forget—is drop the price of the 24" iMac from $1800 to $1500 while spiking the performance.
The baseline chip used to be a 2.4GHz Core 2 Duo; now it's a 2.66GHz, with the Nvidia GeForce 9400M integrated graphics now found in almost every other Apple product. iMacs used to come standard with 2GB of RAM, now there's 4GB in the entry-level 24 incher that I tested, along with a 640GB 3.5" hard drive.
The 20" iMac is cheaper at $1200, but doesn't carry as much value: It comes standard with only 2GB of RAM and a 320GB hard drive. You'd really need to up the RAM to 4GB, so that brings the bill to $1300. At that point, you're just $75 away from doubling the internal hard-drive capacity. Now, at $1375, you're a stone's throw from the other system, the $1500 iMac with its noticeably larger screen—a screen that, mind you, Apple asks $900 for when sold a la carte. (I reviewed with the iMac side-by-side with the 24" Cinema Display; they're essentially identical even though iMac is CCFL while the Cinema Display is LED.)
The $1500 model really sits in the sweet spot. Stepping up beyond that may not make much sense either. Apple charges $1000-a thousand dollars!—to swap 4GB of RAM for 8GB. The good news there is that there's an easy-access RAM-swap hatch, so Apple is almost encouraging you not to buy the extra RAM now, but to upgrade on the open market later when prices drop to sane levels. You can swing a 1TB hard drive for $100 more. However, if you save the $100, you keep the 640GB internal, and have the money for most of a 1TB external too.
People who are serious about gaming or video work do have higher-end iMac choices. There's a 2.93GHz system for $1800, and you can jump to 3.06GHz for $150 more than that. At those levels, you also get dedicated graphics processors: There's the basic Nvidia GeForce GT 120 256MB, then the $150-more GeForce GT 130 with 512MB. Another $50 on top of that gets you the ATI Radeon HD 4850 with 512MB. Those choices are good if you know what you're looking for because, as the good people of iFixit found out, the iMac is not built for the average user to upgrade anything but RAM. Still, for most people—for most uses including anything less than serious gaming—it doesn't make sense to buy above the $1500 2.66MHz iMac, especially given the performance I've seen.
And what have I seen? Well, you can see from these benchmark charts (which I also ran in the Mac Mini review) that the new iMac stays on top the whole time, through batteries of tests, when compared to both the Mac Mini and the far more expensive MacBook Pro (using the same graphics chipset):