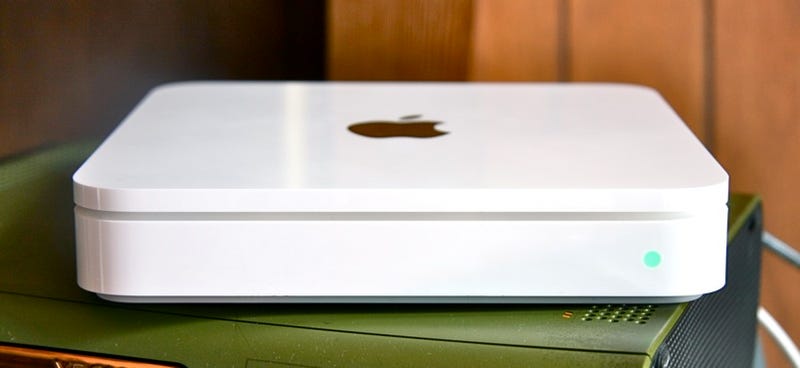 Apple's updated its Wi-Fi router and backup drive combo, Time Capsule, with a guest mode and simultaneous dual-band wireless. I was pretty surprised at how wireless performance has increased, too.
Before I start explaining little things like speed, it's important to understand that the main reason why Time Capsule is cool is that it's the most easy to use device lazy Mactards like myself can back up their machine to. To do so, you just run a OS X Leopard program called Time Machine, which finds your Time Capsule—or any locally connected hard drive—and uses it as a backup HDD. Every day, more or less, by wireless or wired network, Time Machine (the software) and Time Capsule (the Wi-Fi router with a HDD in it) will continue to log changes you've made to your data. The physical drive inside comes in 1TB or 500GB capacities, and is a server drive rated for continous 24/7 use for quite awhile. [UPDATE: Jason just reminded me that last year, some people found the drives in the old Time Capsule to be rated for as a network server drive, but also, for consumer machines. So it's not as robust as some drives you'd find in, say, a data center.] Last fall, the Time Capsule saved my butt when my laptop's drive died overnight. Miraculously, after dropping in a new HDD, the OS X install discs asked me if I wanted to restore from a previous Time Capsule/Machine backup, and ended up losing only 2 hours of data. Two hours!
There's more on the Time Machine and Capsule relationship in our intial walkthrough review.