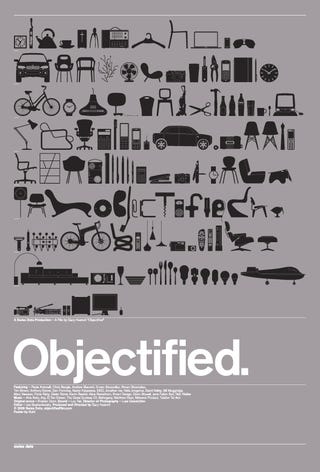 Hot of the presses is forthcoming design documentary Objectified's awesome one-sheet poster by Build, which is a veritable visual history of industrial design. How many silhouettes can you name? Updated with high-res file
Since we only care about Apple products here at Gizmodo, I see a Mac Pro, a number of iPods, MacBook Pro, a clickwheel, iPhone, iPhone SIM ejector tool (!!) and an original iMac...
Oh we kid. There's some fine Dieter Rams Braun action in here, just about every important chair from the last century or so, a Wii, Kanye's favorite glasses, a Swatch...so much goodness. As an aviation junkie though, I'm somewhat embarrassed to admit I can't place that profile of a flying-wing-type glider. Anyone know what that is?