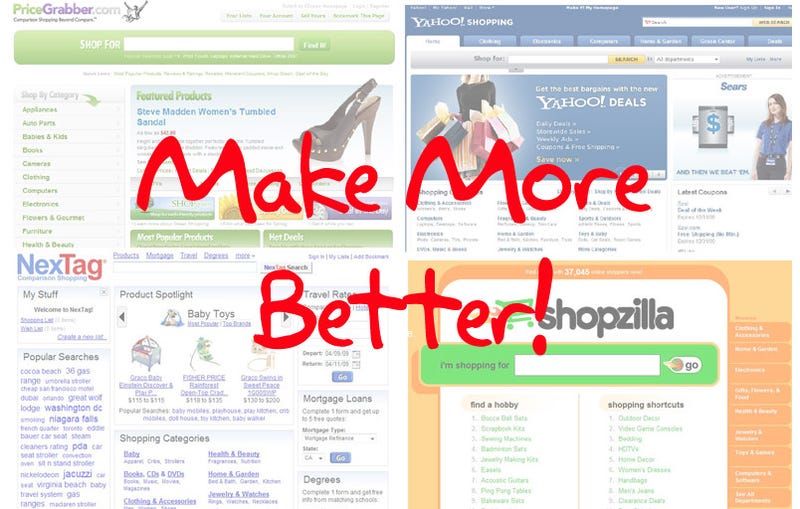 If you are a thrifty consumer, you probably already know that using price comparison sites are a great way to save money on gadgets. But I am tired of shopping around for shopping sites.
When it comes right down to it, I want to visit one site with a simple selection of core features that are focused on one thing and one thing only—helping me save money.
Vendors: Naturally, every good comparison engine needs to establish relationships with as many reputable vendors as possible. Giants like PriceGrabber, Shopzilla, Shopping.com, and Yahoo Shopping generally meet this requirement.
Coupons: Sites like RetailMeNot and MyCoupons.com are great, but that data should not be singled out in a standalone site. It should be integrated into standard search results (like Yahoo Shopping).
Price Alerts: Obviously, if I am truly searching for the best deal, I want to be informed when it happens. The tool to set up price alerts should be prominently displayed. PriceSpider does a good job of this. Sites like Become.com even offer price drops via email without registration. On the other hand, sites like Shopzilla don't even appear to have the feature—or they hide it behind a registration form. Of course, there are numerous sites out there like ZooAlerts, PricePinx and Camel Camel Camel that specialize in price alerts, but I don't see much value in those—especially when they are focused entirely on one shopping site like Amazon.
Price Trending: This is one of the new features on the block. Some comparison engines like NexTag and PriceSpider have already done a good job of integrating this feature in with search results, and it could help consumers rate the quality of the current deal by comparing it to prices in the past. Again, there are standalone sites like Gazaro that specialize in this feature, but as comparison site expert Brian A. Smith from comparisonengines.com points out, focusing entirely on price alerts and/or price trending is not an ideal strategy: