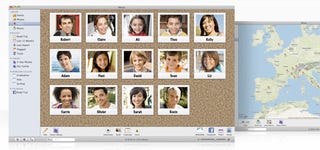 I noticed that the iPhoto 8.0.2 update had some new UI options, so I asked the Apple mothership what all the update covered. Turns out, it solves a few of my original problems:
The main focus for this update was controls and behavior for Faces, the facial recognition and identification software. I originally groused that it didn't see people's heads when they were tilted. Now, if you notice it's not seeing someone's head, you can right click and ask it to "Detect Missing Faces."
It goes back to the picture and guesses at new potential faces. The upside is, it will probably see the face you want it to see, without you manually marking it. The downside is, it may well see faces where there are none. I tried it, and it worked, but it doesn't make the facial recognition smarter, just less discriminating.