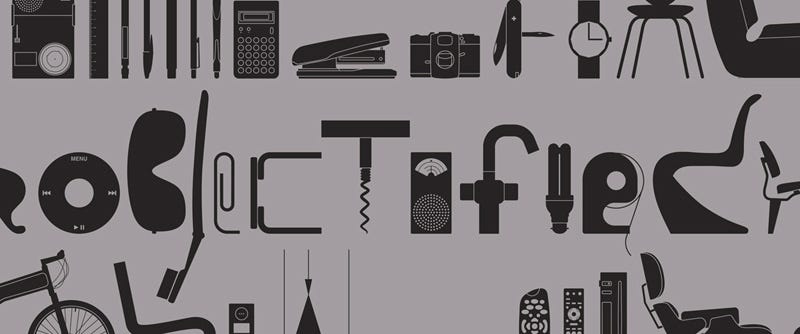 Do you ever stop to realize that another human being carefully conceived and designed every object you will touch today? It's a pretty amazing thought, and after Objectified, you'll be thinking it more often.
And that's exactly the point. Like Helvetica, director Gary Hustwit's previous documentary triumph about the most prevalent typeface on earth, Objectified sings the praises of those very people who, while not necessarily under-appreciated, definitely operate in the background—they design your stuff. It's a secret little world, and through Objectified, we get to live in it.
Take this lamp I bought at a flea market last weekend. I Googled the only thing on the bottom that would identify it ("WINDSOR L-10") and got zero relevant results. It's old, pre-internet for sure, so I wasn't surprised. But who designed it? It's so tiny and Wall-e like (essentially a hybrid of Wall-e himself and the task lamp Pixar uses in their logo)—I want to know more! Someone designed this, and I love imagining the moment of its conception.
My lamp only cost $15, so odds are it wasn't designed by any of the überheavyweights featured in Objectified: There's Apple's Jonathan Ive, Smart Design (of Flip Video fame) founders Davin Stowell and Dan Formosa, the legendary Dieter Rams of Braun, the folks at IDEO (who designed the first laptop, among many other things), Naoto Fukusawa (father of the Infobar), Chris Bangle, the infamous (and former) chief designer of BMW, and many others. It's a star-studded group. Also featured prominently is Rob Walker, who writes my favorite New York Times column "Consumed" in the magazine every Sunday—he is a joy in every scene he is in, including where he dreams of an ad campaign encouraging people to got out and use and be satisfied with the stuff they already own.