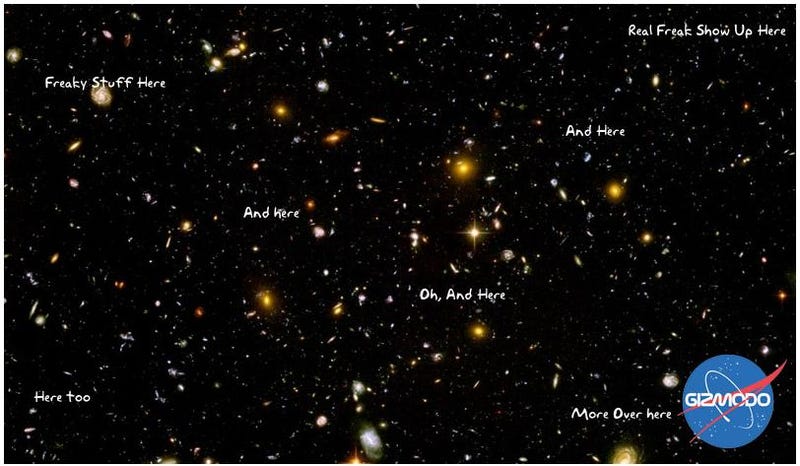 In October, NASA discovered the universe was sliding inexplicably toward, well, something massive. They called the phenomenon "dark flow," and it's but one example of the creepy, unexplained awesomeness that awaits humanity in space.
Dark Flow. Or, The Universe's Great Cosmic Tease
Like some kind of massive cosmic toilet bowl, the multitude of galaxies that populate the known Universe are swirling inexplicably toward a tiny 20-degree plane of deep space. At least, that's what astrophysicist Alexander Kashlinsky discovered in an incredibly controversial paper published in October 2008. Put simply for we laypeople, the paper suggests that way out in the cosmos—beyond Tatooine and idiotic Ewoks and Caprica Six's curves—lay a chunk of matter so beyond our understanding that it is actually pulling the observable universe toward it at 600km/s.
But in that term "observable universe" lies the rub. We can't (and never will) "see" what this mass of theorized matter looks like. Which is too bad, because the dark flow theory hints that this mass, or super structure, could be anything from another universe to a realm of whimsical fancy whose physics, forces and warped space-time are completely beyond any of us. Unicorns, flying cars, cats and dogs living in harmony, you name it and it could be true, as we'll never, ever make it there to find out first hand.
And even though this whole "observable universe" buzz kill means one of the greatest discoveries ever will never be observed by humanity's naked eye, it doesn't mean scientists are deterred from theorizing the hell out of what lies just beyond the cosmic horizon. Indeed, Kashlinsky intends to continue to research the phenomenon using data from the five-year Wilkinson Microwave Anisotropy Probe (WMAP) project. Launched in June 2001, WMAP has been a "stunningly successful" program, responsible for producing a new Standard Model of Cosmology, says NASA. (Ed. Note: WMAP's top ten discoveries are on display over at NASA –j.l.)
The WOW! Signal. Or, Holy Crap, Alien Avon Calling!
Before Jodie Foster implored humanity to send poets to document the denizens of Vega, there was a real-life signal from the heavens that has, to date, remained one of the most compelling pieces of evidence that we are not alone.
Called the WOW! signal, this 72-second beacon was detected by Dr. Jerry R. Ehman on August 15, 1977. Because the unknown signal fit the parameters of what an artificial space signal might sound like so exactly, the awestruck Ehman jotted down "Wow!" when he first heard it. I'd also like to think he cartoonishly fell back in his chair and spit coffee out all over the terminal when it happened too, but that's just me.
One of the biggest pieces of evidence supporting the theory that Wow! was extraterrestrial in origin—and not some random signal from Earth that bounced off a satellite—was the 72-second duration. As was the case in Contact, with its 18 hours of recorded static, more can be read in the length of the transmission than within the signal itself. In fact, in a paper published on the 20th anniversary of WOW!, Ehman explored additional theories and speculation regarding signal length:
There is still another factor to consider. The signal could actually have been present for years (or millennia, for that matter) prior to its detection for the following reason. Just before the data acquisition and analysis (i.e., the "run") began, the declination of the telescope was changed. In the days (and years) previous to August 15, 1977 the radio telescope was not pointed at the declination where Wow! was seen; thus, we couldn't have detected that signal. I should note that during the Ohio Sky Survey many years earlier, we did survey the same declination we did when the Wow! signal was discovered. However, we were using a wideband receiver (8 MHz bandwidth). A narrowband signal averaged over a wide bandwidth would be reduced in intensity so much that it would have been buried in the noise. Thus, even if Wow! were present then, we wouldn't have seen it."
So, was it aliens? If we get off this rock and jet off into the stars, will we one day find the source of this mysterious signal? Who knows, as subsequent attempts made over the past 20 years to locate the Wow! signal, or another one like it, have failed. Even when more powerful systems were implemented, like the Hollywood-friendly Very Large Array in New Mexico, the results were all the same: Utter silence.
If you'll yourself a bit of wishful thinking, however, the idea that this was some kind of powerful last-ditch burst of radiation from a dying alien race is not implausible. As detailed by author and astronomer David Darling, the Wow! signal could have been generated by an alien civilization with access to a transmitting dish like our Arecibo radio telescope. They'd also need a 2.2-gigawatt transmitter—extremely powerful, but plausible for humans (and definitely plausible if your race is, say, facing extinction).
NASA's Mystery BOOM! Or Something In Space Is Screaming
Contrary to what the original Alien movie poster might have lead you to believe, somewhere in the universe, something is screaming—and we can "hear" it.