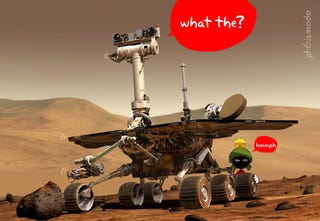 You know when Woody gets kidnapped and then Buzz Lightyear and Mr Potato and all the toys go to rescue him from the evil toy man? Well, this story has nothing to do with that.
Right now, NASA's Spirit rover status is:
Spirit: Embedded and Cleaner >>
In other words: Spirit —which was suffering some problems already is stuck in Mars' Home Plate, with his telescopic nipple antennas trying to get some directions from its masters down at the Jet Propulsion Laboratory. They believe that the rover is sunk in dirt or its wheels are rolling up in the air, perched on a rock under its undercarriage.