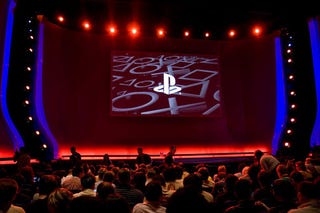 Sony's E3 press conference is about to start, and we're here waiting to see what they'll announce. PSP Go!? PS3 Slim? Who knows?! We're starting now.
Archive below:
11:00 AM ON JUN 2 2009
Mark Wilson:
We just cabbed it across LA, and we're at the Shrine Auditorium, ready to liveblog Sony's press conference. Wow this was bad corporate planning. Anyone waiting on a bus from Nintendo won't make it if Sony starts in time…one minute from now.
11:07 AM ON JUN 2 2009
Mark Wilson:
So what will we see from Sony. The PSP Go!? Yeah, seems like a sure thing. The PS3 Slim? Seems likely. A Sony motion controller? That's anyone's guess.