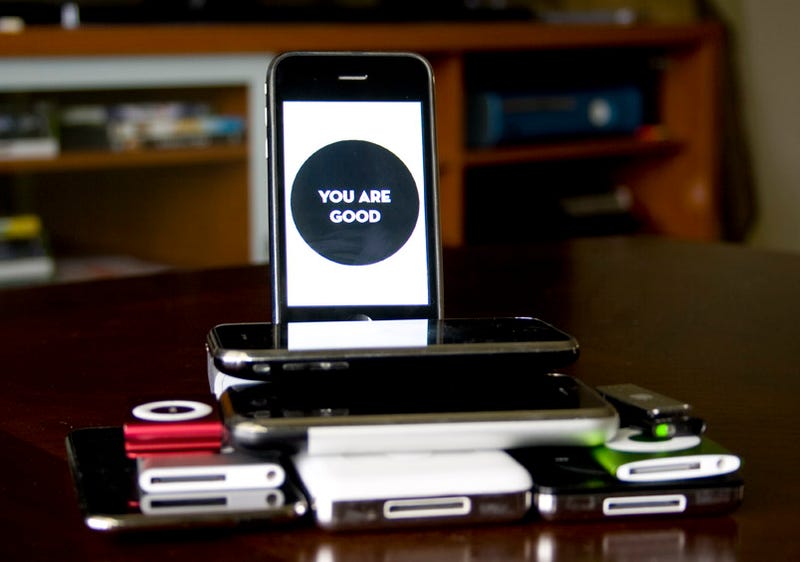 What's the point in buying a new iPhone if it looks exactly like the old one? Because once you start using it, the speed of the iPhone 3GS will amaze you.
There's a reason why Apple called this the iPhone 3GS for Speed and not the 3GC for "compass" or 3GV for "video recording." Speed is the central upgrade here, and probably is the single biggest reason you would upgrade to a 3GS from a 3G. And if you're coming in as a virgin iPhone user, there's definitely no question: The 3GS is worth an extra $100.
That declaration may be weird to most of us since we usually look for features, and not specs, when we're evaluating phones—and iPhone 3GS doesn't blow us out in the feature department. Instead, it's like getting a bigger TV or a faster car. Your old machine works just fine, but once you've tried the new one for a week, you'll never want to go back, even if it costs you a little extra.
Like we said, from the outside the 3GS is exactly the same as the 3G. It's slightly heavier and has glossy text on the back, but if Steve Jobs whipped one out in public before it was announced, you wouldn't have been able to tell the difference.
By holding the 3GS next to the 3G, you'll notice that the screen is slightly more reflective because of the new fingerprint resistant oleophobic coating. It even has a little bit of a rainbow effect if you reflect a monitor with it. Surprisingly, the coating actually works in preventing a good deal of fingerprints and face grease, and it allows the phone to still be smooth and usable even if there are fingerprints on the surface.
The shot above illustrates the fact. The two phones may look similar in how much finger and face grease are on the screen, but the iPhone 3GS is still usable and doesn't have the problem of "sticking" in certain areas that are slightly greasier. It's also easier to clean just by wiping on your shirt. The glass treatment won't eliminate smudging from your bodily secretions altogether, but it's a very useful improvement for something you're touching all the time.
The 3GS display is ever-so-slightly warmer than the 3G's, having a yellow/orangish tint when viewed side by side. If you remember, the 3G's screen was also warmer than the 2G's. It's not distracting in any way, and the warm screen is slightly easier on your eyes even if the brightness is bumped up high.