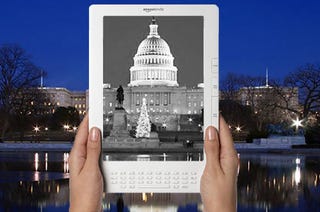 The "New" Democratic Leadership Council in Washington has proposed that the government buy a Kindle or other "eTextbook" for each of the 56 million K-12 schoolchildren in America. It's a nice sentiment, but as a plan, it's holey.
I am certain this gave Amazon honcho Jeff Bezos one hell of a tingle when he saw the report, but in spite of the repeated mentions of Amazon and Kindle, I'm pretty sure he had very little to do with it himself. Here's why:
The DLC—'scuse me, NDLC—estimates the up-front cost of materials to be around $200, but could fall to $80 by 2012. Since the government now spends about $109 per student on text books, the initial investment seems in line. However, I don't think they're looking at the appropriate model. The Kindle 2's teardown revealed that it costs around $185, but that includes $60 for the 6" screen. Don't these fat cats in Washington know that textbooks only work on the $489 DX (and even then just barely)? Even at cost, I guarantee you're looking at a lot more than $200 per kid for one with a 10" screen.