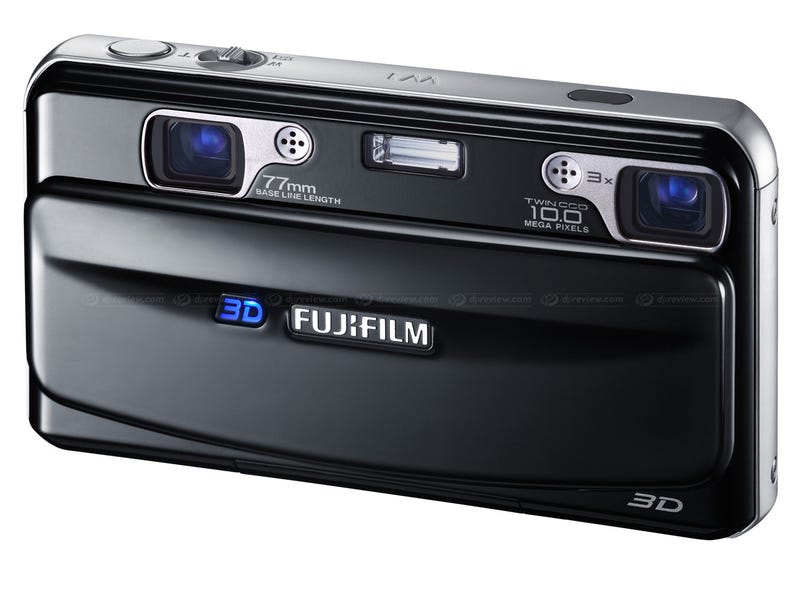 Fuji's two-eyed 3D consumer camera grinned its way into our lives last week, but Time spared us the details. Now, a proper announcement: the FinePix Real 3D W1 camera shoots 3D stills and video, which can be viewed without glasses.
Atop 3D capabilities and bevy of standard point and shoot features, the FinePix Real 3D W1 attempts to get some use out of its humanoid eyes during non-3D shooting as well, allowing you to snap pictures in two color modes at once, with two different focal points—essentially, it's two synchronized cameras in one.
3D viewing comes by means of the camera's built-in screen, an optional 8-inch LCD picture frame called the FinePix Real 3D V1, or custom prints ordered from Fuji, all of which use the same lenticular lens system, avoiding the need for any kind of 3D glasses.
Just as expected, the Real 3D system will hit stores in September, but despite Time's "guess" at a $600 price (for the camera, that is), Fuji's mum on that front. Considering the device's potential—pocket 3D movies, anyone?—and the fact that this is basically the first consumer 3D p&s, that pricepoint isn't be too bad at all, assuming that the glasses-less viewing system is any good.*