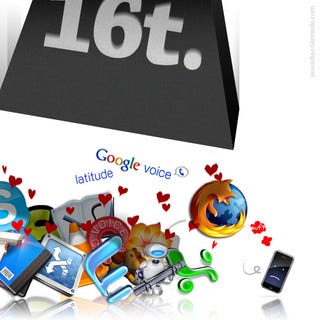 The App Store approval process has always been mysterious, slightly ridiculous and mildly infuriating. But with the summary execution of Google Latitude as well as every Google Voice app, it's finally gone too far.
Until this past week, Google's been the most privileged developer for the iPhone outside of Apple itself. I mean, Google Maps and YouTube come baked into the phone. Hell, Google even gave the iPhone voice search—a more powerful version, no less—before it delivered the feature to its own OS, very obviously using private APIs that would've likely resulted in a swift kick in the ass for any other developer.
Yet here we are, Apple has rejected not one, but two Google apps that would deliver major new features to the iPhone, for reasons that are so obviously tripe it's insulting to even our non-exceptional intelligence. A Google Latitude app would confuse us? Really? Because it would "use Google to serve maps tiles"? Wait. Isn't one of iPhone 3.0's major new features that it can use Google Maps inside of other applications? So like every app can use Google to serve maps tiles. I admit, though, Latitude is a really big word. What does it even mean? That is pretty confusing. Maybe they should call it, like, Google Stalker.