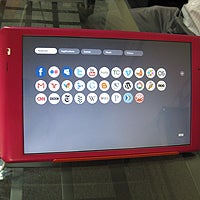 What happens when a professional leakster gets his business leaked? He gets extremely, adorably "ripshit" mad, apparently. Singapore's Straits Times reports Arringon's Crunchpad web tablet is coming in November, citing the device's hardware designers. Is it true, Mike? (UPDATED)
It's not entirely clear! Says the gentleman:
re crunchpad, obviously i'm completely ripshit mad about all this unauthorized bs press: http://bit.ly/2dVjBQ wtf.
He calls the press "bs," but if he really wants to tell us that the report is untrue, or rather, if the report really is untrue, a calm, flat denial could more or less end this—something I'm sure he knows. But no, the problem here seems to be that the report was "unauthorized," which is pretty much the greatest thing ever, of all time.
Aside from its iffy "World's First Tablet!" headline, the report sounds credible as a whole, based around an actual meeting the paper had with Fusion Garage, and it jibes with previous "coming soon" rhetoric that'd been circulating, so until a more reasoned, more specific and less hype-magnetic denial comes along, I'm inclined to believe it. UPDATE: The full spec sheet: