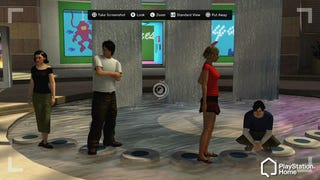 This September, the 1.3 version of PS Home will roll out to PS3 users. The big upgrade? You'll be able to launch any game straight from Home.
And some games, like Street Fighter IV, Resistance 2, MotorStorm, and Far Cry 2 will include another level of Home integration, bringing along some multiplayer options.
Other Home improvements include clothing and furniture previewing (try before you buy), portable objects (like bubble machines) and an in-Home first or third-person camera (take a shot of that pretty girl you see so that you can dry hump her later rather than in the square).
So...any PS3ers in the audience use Home lately? I loaded it 2 weeks ago, but it was completely by accident. [PlayStation Blog via Kotaku]