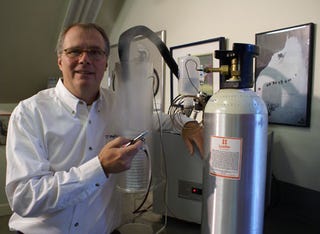 People have been eating snow since the 4th-century BC, but nowadays the behavior is discouraged by parents the world over. People make ice creams, sorbets, gelatos, etc. every day. We wanted to make snow. In the kitchen. It's hard.
Among the reasons a dinner at Alinea resonates on an emotional level with so many people is that Chef Achatz consciously tries to remind guests of their childhood. Nostalgia is a powerful emotion that gets a bad rap.
One of the most successful and beautiful dishes served at Alinea involved taking a twig of oak leaves that had turned red and orange in the fall, using the branch as a skewer for food, then lighting the leaves on fire just before bringing them to the dining room. Guests would smell burning oak leaves and—if they grew up in the northern US basically anytime before the 1990s—it would transport them back to an earlier time in their lives and evoke the feeling of fall: Cool crisp air, back-to-school, raking leaves and jumping in them. This didn't just work once or twice—nearly every night people were overcome with emotion when this was brought to their table.
When it comes to the winter menu, hearty foods are obvious choices in the cold Chicago weather. And holiday references such as pine boughs, cinnamon aroma, and goose are emotional triggers. But there is one more basic than all of those: Snow.
What kid has not reached down, picked up a handful of (hopefully) fresh snow and eaten it? Or looked up to the sky, squinting their eyes, and tried to catch snowflakes as they fall down? The question was, how do you make the stuff in the kitchen?
When we were building Alinea we wanted to buy a cost effective thermal circulator to precisely control the temperature of sous vide baths. I found one on eBay, noticed that the company, PolyScience, was nearby in Skokie, Illinois, and gave them a call. I explained that we would be using the circulator for culinary purposes, and was handed over to the CEO… who happened to be a fan of Grant's work at Trio and a die-hard foodie.