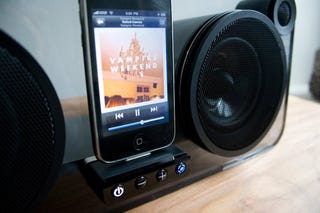 The iHome iP1 is, unquestionably, iHome's best attempt at building a quality iPod dock yet. But I shudder to think it's a $300 machine. And if you care to know why, read on in my somewhat unconventional, completely self-indulgent review.
The Rundown
The P1 is an iPod/iPhone dock. You put in your iPod, it'll back it up with speakers (2x 4" honeycomb woofers and 2x 1" silk dome tweeters, to be exact). Plus there's a Bongiovi Acoustics Digital Power Station (a glowing B button) that promises to be the "first 100% active digital signal processor on a consumer electronic product." Huh. OK then.
The Performance
How does it all sound? I'm torn. Sometimes I'm impressed (like by some respectable mids and occasionally tight/brilliant lows), and others I'm completely underwhelmed (like by perpetually thin drums and an over-emphasis on re-verb that oft-creates an artificial echo.)

And as for that glowing B button, my opinion changed by the song—but I'm guessing that's more because it artificially tweaked the balance than did anything spectacular to the audio quality. Standard pop music sometimes projects better from the speakers, but Sgt Pepper, for instance, becomes a murky mess when you hit that tempting blue button.
Overall the iP1 sounds fine—like a $300 iPod dock—though I wouldn't fist pump the purchase on sound quality alone, unless I was also smitten with the P1's design-forward, smoked acrylic frame. If you like how the iP1 looks and desire an iPod dock, then by all means, go for it. But, and I don't claim to have listened to every competitor's current-gen systems, I trust that manufacturers like JBL, Logitech and Altec Lansing can more than compete in this price range. Because their last gen models certainly did.