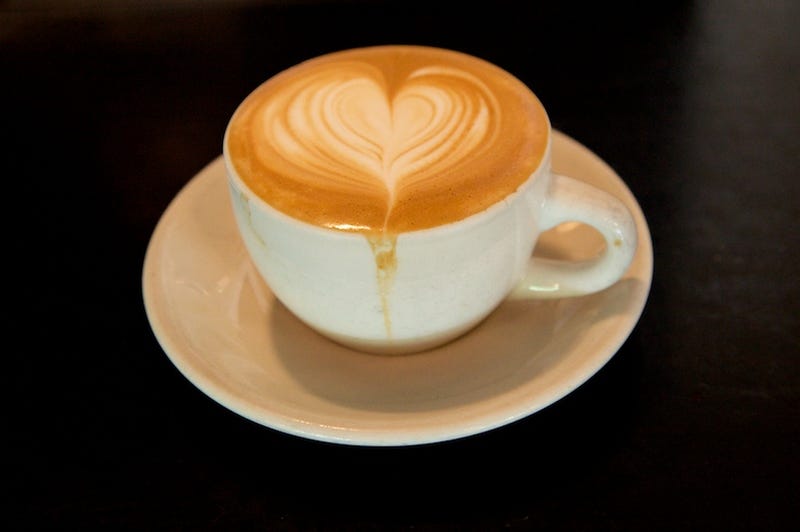 I love coffee. Probably more than you do. But I'm not as obsessed as the people who devote their lives to coffee, forever searching for the perfect cup through practices that mingle science and voodoo. I want to be.
When I (or anyone) order a macchiato at either of Ninth St. Espresso's Alphabet City outposts, it's always made by a dude in his 20s wearing a baseball hat and facial hair who appears to move with a level of enthusiasm rivaling that of an arthritic retiree working as a night-shift security guard at a library. It looks like he simply doesn't care. At least, if you don't watch closely.
After he presses the tamper into a mound of brown, almost velvet-like powder to compress it into a perfectly even puck of coffee for proper extraction, he gives the portafilter a fast twirl, proving the coffee is packed in tightly enough that gravity can't wrestle it out. The steel pitcher holding the steamed milk is slammed into the counter once then swirled, twice and another swirl, three times—then half of its contents are dumped into a drain before they're poured into a tiny cup with hand movements that slink back and forth so subtly they're almost imperceptible, smoothly layering the milk into a triple shot of thick and rusty brown espresso, the drink topped with an arabesque mark of white in a small sea of tan foam. I wasn't witnessing malaise, but the skillful, measured movements of a pro.
That's merely what I can see—what I didn't know before talking to Ninth St.'s owner, Ken Nye, is everything leading up to that. The $15,000 hand-built La Marzocco machine my drink was crafted with is the only one of its kind in the U.S., an "almost prototypish" model that stuffs the state-of-the-art in espresso-making technology into a retro body style that evokes fine Italian machinery as much as it does coffeeshop centerpiece (photos above). The heart of the machine is an electronic PID-controlled triple boiler system. Typical commercial machines have two boilers—one for the coffee, one for the steamer—but Ken's machine has separate boilers for each group head (where the coffee comes out), each of which can adjusted to within a tenth of a degree.
Ken says that kind of temperature control really matters. He and others avow that taste begins to change within half a degree—as coffee gets hotter, it tends to be more bitter, while cooler coffee can be more sour. (How important is temperature to coffee? Ken keeps his shops at exactly 73 degrees year round—for the beans, not the customers.)
Older machines just couldn't get that kind of precision. They had a typical variation of a few degrees either way—which is why Ken retired his 1970s machine, which it sits, gorgeous as a classic car, in the back of the shop. The new machine is a glimpse of what other top-of-the-line espresso machines will perform like a year from now, says Jacob Ellul-Blake from La Marzocco R&D—though they'll have even more sophisticated, programmable controls for pressure, too, giving a barista exacting digital power over nearly every parameter of the coffee.
How those parameters are changed is where engineering meets art—it's entirely based on taste. Artisan coffee-making may be at last trodding toward digital control en masse, making the production of a cup of coffee approximate voodoo-inflected mad science. Ninth St.'s relatively new $3000 Mazzer burr grinder is also electronically controlled, its older grinder relegated to pulverizing beans for decaf, while water filters run amok throughout the shop to ensure a mineral level of 100-150 PPM/TDS, lest the water be "lifeless" or too hard, and damaging to the equipment—but the very analog rituals of tasting, like cupping, prevail. After all, there's only two elements in coffee: Coffee and water.
And despite all of the gear, what this bleeding edge of the coffee industry is attempting to imitate is the old-school wine industry. To see that, I had to step back a level, from coffeehouse to roaster, so Ken directed me to the current supplier of his beans, Chicago-based Intelligentsia Coffee.
Intelligentsia's New York training lab, run by David Latourell (formerly of the Clover's progenitor, the Coffee Equipment Company), is a large white space divided into two rooms. Two-thirds of the space is the lab, with two long steel tables pressed back against the wall, cluttered by nearly $50,000 worth of gear for making coffee: Chemex to vacuum pot, caffe solo to Clover. The other third of the space is a dedicated cupping room with a hydraulic table cut into a stage. Intelligentsia is one of the three big roasters, along with Portland-based Stumptown (who just opened a NY roastery) and North Carolina-based Counter Culture, currently spearheading the so-called third wave of coffee, the second wave being, in a nutshell, Starbucks.
The two big messages of the third wave, if you buy into it as a movement, are sustainability and coffee as a "culinary experience."