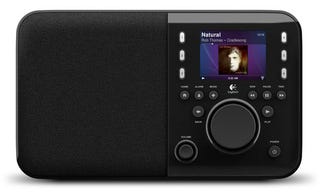 Logitech has just announced two new Squeezeboxes that stream audio over Wi-Fi: the Squeezebox Radio and the Squeezebox Touch. The Radio is a stand-alone device, while the Touch is designed to work with your existing stereo.
The Squeezebox Radio is the cheaper of the two, coming in at $200. It's got a built-in amplifier and speakers to pump out music streamed from online or from your music collection stored on your computer without needing to plug into your stereo. It'll download from iTunes or stream from Napster, Pandora, Rhapsody, Sirius or Last.fm. The screen isn't a touchscreen, but it's got six buttons for navigating or selecting what you want to stream.
The Squeezebox Touch is the fancier of the two at $300, and looks just like those leaked pictures. Designed to plug into your existing stereo, it's got a 4.3-inch touchscreen for choosing music to play and viewing album art, and it streams everything that the Radio does. Since it doesn't have built-in speakers, it supports sampling rates of up to 24 bits at 96kHz. It's also got a USB port and SD card slot for listening to music stored on thumb drives or memory cards.