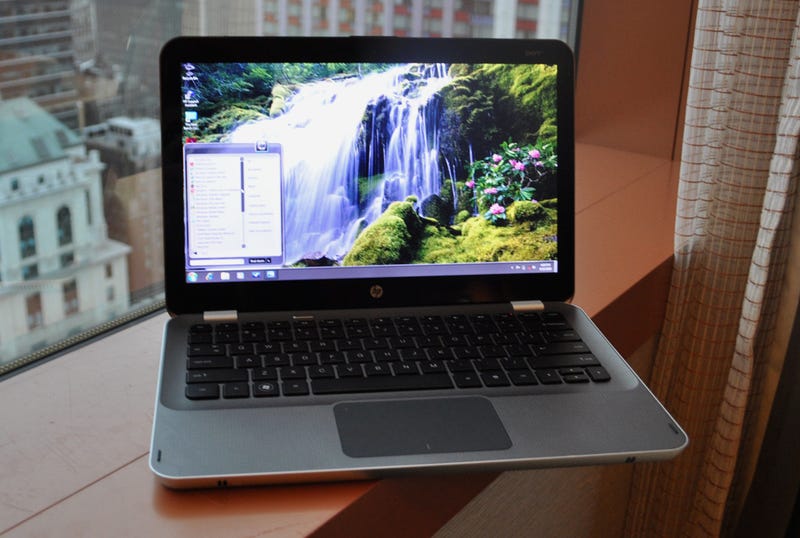 It looks like a MacBook Pro. It feels like a MacBook Pro—aluminum body, chiclet keys, even a buttonless trackpad. But the Envy's got an HP logo etched onto its lid. And it might just be better.
Don't act surprised that the Envy 13 and 15 have chiclet keyboards and buttonless multitouch trackpads because HP certainly isn't hiding the fact that they absolutely stole their look and ergonomics from the Macbook Pros. The $1,700 13-inch Envy isn't as powerful as the $1,800 Envy 15's mobile Core i7 processor, but it's more like a MacBook Air at just over 3 pounds, and its beautiful screen has been in my dreams. Neither are as strong as the MacBook Pro's unibody though—they're a bit more flexy, but if unibodies rated a 9, these would be a 7 or 8.
Envy 13
The Envy 13 is almost more Air than Pro, at .8-inches thin and 3.74 pounds. (The Air is .76 inches thick and weighs 3 pounds.) Its screen, framed by the same style glossy black bezel as the unibody MacBook family, is absolutely stunning. Dubbed HP Radiance, the 410-nit display is apparently two times as bright as other LED displays and it looks it. Apple doesn't list the MacBook Pro's display brightness in nits, but the Envy's display definitely looked brighter and clearer.
It pulls the dual processor trick the 13-inch Pros don't, with switchable ATI Mobility Radeon HD 4330 graphics and an Intel ultra low voltage Core 2 Duo processor inside. Its removeable battery promises 7 hours of battery life, however its add-on extra battery is sweet: It magnetically clips to the bottom of the notebook to make it look like it is part of the actual build. HP promises 18 hours of juice with that thing clipped on. Did I mention it has Dr. Dre's fingers all over it with Beats Audio integration?
Envy 15
Where the Envy 13 leaves off in performance the Envy 15 picks up. The 15.6-inch version looks pretty similar to the 13, but is laser etched all around (on the palmrest and the lid) and lacks the flush glass display with the high-quality Radiance technology. But it'll outperform pretty much any other laptop out there so far, since it'll have Intel's next generation mobileCore i7 processors, ATI Mobility Radeon HD 4830 graphics and support for up to 16GB of RAM. The beast will also have two hard drive bays, which you can fill with SSDs. But it's still only an inch thick and 5.18 pounds, making it that much more impressive.