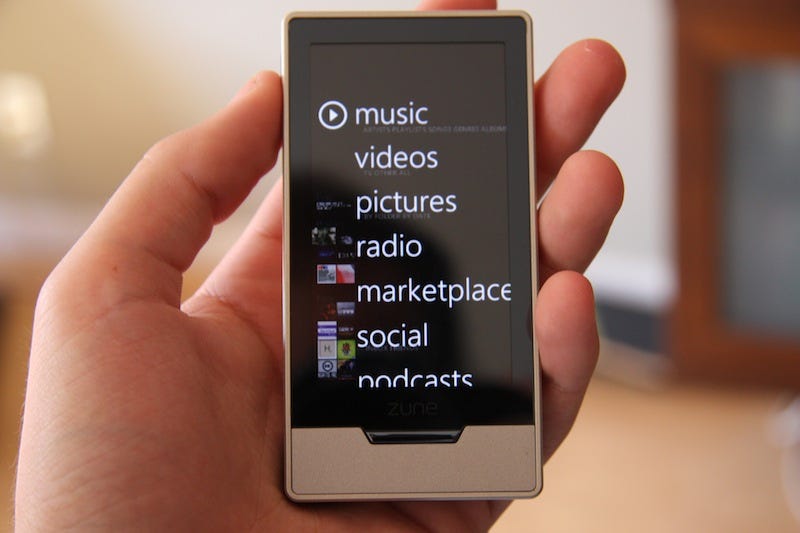 The big question: Can the Zune HD compete with the iPod Touch? I get the sense that Microsoft isn't trying to, exactly.
While the Touch and its apps are a multi use pocket computer, the Zune HD is an evolution of the PMP—not a devolution of some smartphone model. Every new feature it has is used to expand the way you absorb media, from the HD video output to the HD radio to the redesigned UI.
Hardware
The Zune HD is not a simple curved rectangle with a screen, like the iPod Touch, but a resolutely industrial, luxurious, angular and slim design. From the angled back to the visible screws to the long and thin home button, the Zune HD is a look all its own.
Constructed of aluminum, rubberized black plastic and glass, the Zune HD feels tough and solid in the hand. The widescreen display offers less space for non-media applications like web browsing, but for media (which, after all, is the Zune HD's raison d'etre), it's a really nice size. It won't quite fit in the change pocket of your jeans, but it'll slip into even the tightest of regular pockets. The iPod Touch may be a hair thinner, but the Zune HD's narrower body makes it feel much smaller.
The gorgeous 3.3-inch capacitive OLED touchscreen takes up the majority of the device's face. More on that below. It's surrounded by three hardware buttons: Underneath the screen on the face is the home button, on the top edge is the power/hold button, and in lieu of a volume rocker the Zune HD has a button on the left side that brings up Quickplay options. These options drift onto the screen and offer volume, track forward/back and play/pause. Quickplay can be enabled to work even while the player is locked.
On the bottom of the device is the proprietary Zune port (the Zune HD will work with all of the surprisingly easy-to-find existing Zune accessories) and the headphone jack. It's rated for 33 hours of audio and 8.5 of video, which is very strong if it's true (especially since previous Zunes were lacking in battery life, to say the least). The Zune HD lacks both a speaker and a camera, though neither is necessarily a mark against it. Still, both options would be welcome.
Screen
One of the first PMPs with an OLED screen (the Sony X-Series being the other major one), the Zune HD theoretically has a sharper picture and deeper blacks compared with LCD screens like the one on the iPod Touch.