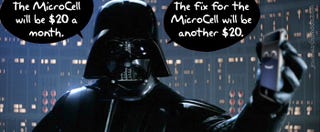 AT&T's network is basically a huge failure. And if you want to fix their incompetence in your area, you'll need to pay an additional $150 for a 3G MicroCell. I call bullshit.
Update, March 24th, 2010: While AT&T wisely offered to cancel the monthly payments, we still think some of the principles below still stand. The most important being, if I'm paying for service, and that service is terrible, why do I have to pay more to get it to work as it should, and as well as it does on Sprint and Verizon?

Danny touched on this earlier, but the logic here is blowing my mind. How little regard for your customers do you have to have to offer a product that fixes your own product for an additional fee every month? Seriously, somebody explain to me how this is going to fly.