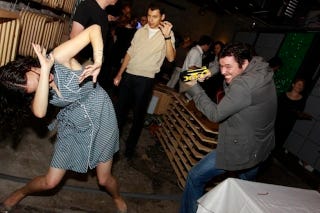 It was great seeing so many friends at our preview last night. Even though the AC broke, there was always a cold drink from the bar or coke machine to be had. And we dropped some exclusive Microsoft news.
The gang and I had pulled two all-nighters setting up. The later it got, the less patient we were with each other. There was plenty of shouting. The pancake machine and coke machine fought each other for amperage. Minutes were melting away as fast as our resolve was in the hot, improperly ventilated room.
Then the party started. Upcycle was 99% done with setup, but some pieces were all not together yet. We were missing some signs on devices, so they appeared mysteriously, without context and without description of how precious some of them were. It was kind of cool, since I'd took the most valuable off platform, since our security ropes were not yet installed. At that point, Nick Denton, owner of Gizmodo, told some guests to feel free to touch some. I groaned a little groan, but thought nothing left on display wasn't attached or replaceable.
Then we dropped a scoop: An internal leaked video from Microsoft, detailing how their unseen and unreleased tablet will work. As the video played on the 103-Inch Panasonic, the post hit the site. I introduced the crowd to Chris Mascari, Director and unsung hero of gallery, introduced Arc Attack. As their song of lighting and geek tunes played, I recalled an earlier incident that could have knocked the power out on the block. Their 240 volt came from a freshly run line, directly to the power box off the street, hacked together by reader Phil. The issue with running it straight from there, however, is if the transformer box shorts, the block could go black. Good thing, then, the Arkeg game/beer machine was using a garbage can full of ice water to cool its drinks right next to the live, black cables as thick as a baby's wrist. We mopped up, drink in hand, and with no hands left to use to cross our fingers.