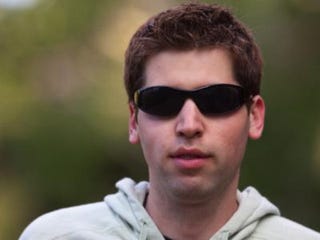 10. Loopt cofounder/CEO Sam Altman
The word you hear over and over about Sam Altman is "will."
As in, he has it — to succeed, to overcome.
Here's what he told Charlie Rose when Google introduced Loopt-clone Latitude: "You know, I'm happy to say that there was a lot of talk about Latitude is going to kill Loopt, and it hasn't even come close to happening yet. I think we have huge respect for Google, but we can out-innovate anybody in the world, I hope, and we're very focused on this. We're nimble, we're quick, and we'll keep delivering a better product."
Y Combinator's Paul Graham puts Altman on the same list of founder he puts Steve Jobs:
Sam is, along with Steve Jobs, the founder I refer to most when I'm advising startups. On questions of design, I ask "What would Steve do?" but on questions of strategy or ambition I ask "What would Sam do?"
What I learned from meeting Sam is that the doctrine of the elect applies to startups. It applies way less than most people think: startup investing does not consist of trying to pick winners the way you might in a horse race. But there are a few people with such force of will that they're going to get whatever they want.
9. Google CFO Patrick Pichette
Google has always been an unstoppable cash-generating machine. The problem was, for much of its short history, Google was also extremely undiscplined about where it spent all that cash. That changed when Patrick Pichette became CFO last year and promised to "feed the winners," and "starve the losers."
Of course, that's just good business sense. Patrick's real talent — says a Google insider — is his ability to communicate the need for cost discipline in a way that Google's academically-minded upper management can buy into.
Says the Insider: "[Patrick] thinks like a normal business person but he has the academic credibility to be taken seriously here. Not aggressive or overbearing, but introducing the kind of discipline good companies all have. He has a slightly academic air and that really plays here."
8. President of AOL Media Bill Wilson
If new AOL CEO Tim Armstrong turns around AOL, it will be because of AOL Media president Bill Wilson. He oversees 1,500 fulltime and freelance editors and writers — an editorial staff larger than the New York Times newsroom — working to turn AOL into the Time Inc. for the 21st Century.
7. Google SVP Jonathan Rosenberg
You use Google's vast portfolio of products all the time, but do know the name of the top executive behind them?
Here's a hint: it's not cofounders Larry Page or Sergey Brin. It's not the photogenic Marissa Mayer. It's SVP Jonathan Rosenberg.
Why all the power? Maybe because one of the only people at Google willing to raise his voice.
Valleywag: Google's Mountain View campus is a happy primary-colored wonderland where no one ever screams or yells. Except for SVP Jonathan Rosenberg. A Google employee tells us that at the Googleplex Rosenberg is known as "a shitkicker" who "likes to crack the whip." Google lore has it that Rosenberg likes to yell so much, he even hollered during his hiring interview, presumably with Google founders Larry Page and Sergey Brin.
People were like what the fuck is going on in that conference room? And then someone was like someone is interviewing, and it's the interviewee who's doing the yelling. He just literally likes to yell.