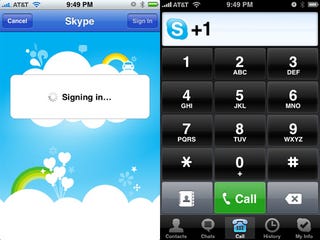 Holy keee-rist. The apocalypse approaches, because AT&T has opened their network up to VoIP applications running over the air on the iPhone. In other words, AT&T is now totally cool with using Skype over 3G.
AT&T supposedly just told Apple and the FCC this afternoon that their network is ready for VoIP over 3G for the iPhone, meaning it might take a bit to show up in apps, but the floodgates are open now. And yeah, whoa. Skype over 3G has been okay on other phones that weren't the iPhone before this, but AT&T's now "taken the steps necessary so that Apple can enable VoIP applications on iPhone to run on AT&T's wireless network." Since there's no cap on iPhone data—and AT&T says it's still unlimited with VoIP—that means you can get the cheapest possible voice plan and talk as much as you want through VoIP apps like Skype.
We wouldn't be totally surprised if AT&T suddenly discovering their network is ready for VoIP over 3G is at least partially motivated by the FCC's recent crowing about net neutrality—even for mobile providers—and in reaction to the FCC's investigation as to what exactly when down between AT&T, Apple and Google with Google Voice. This is AT&T showing Mr. FCC that they play nice and fair, and pretty please, don't drop some government regulation on their head, like mandated neutrality. It also makes them look better as they point the finger at Google Voice for not following net neutrality conventions.