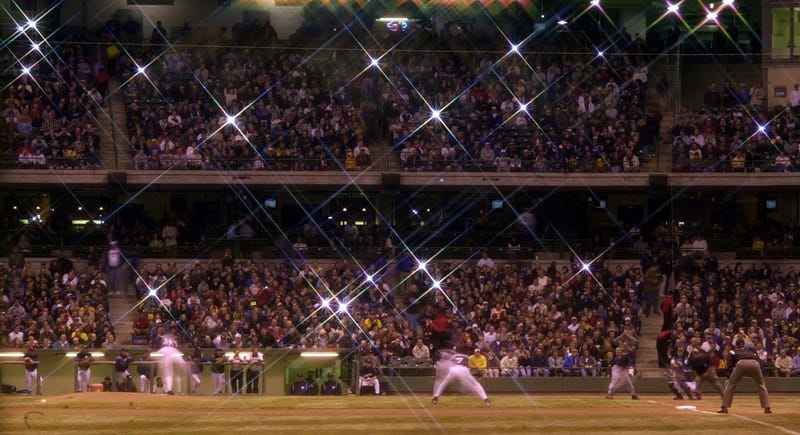 What is photography's greatest scourge? Cellphone cameras? MySpace self-portraiture? Neither even comes close to the insidious, creeping threat that is your camera's built-in flash. Here's when and how you should—and more importantly, shouldn't—use a flash.
Avid photographers, you already know the score, and this isn't a guide for you. Nor is it for the dude with the brand-new 5D Mk II with an external flash gun, or the weekend strobist. This is a reference to be passed around as a public service; a quick guide for the aquarium-flashing, face-flushing, baby-blinding friends and family you all know and tolerate love.
When You Shouldn't
At Large Events
Every time I go to a nighttime sporting event or concert, I see hundreds of starry flickers coming from the stands. When I see them, I die a little inside. For your average point-and-shoot, the effective range of your built-in flash is about 15 feet. You might stretch this to 20 feet if you jack up your camera's ISO settings to 800 (or God forbid 1600), but under no circumstances will your camera's flash reach down to the field or stage.
Every little flash you see in the photo above represents a failed photo, unless the intention was to get a well-lit out-of-focus shot of the dude sitting two rows forward. Shooting artificially lit events may be hard, but letting your camera's automatic flash have its way won't help. Shut it down.
Through Glass
Walk into any aquarium for a classic flash infraction: Shooting through glass. People press their cameras up to the fish and everybody goes blind. This almost never works—ever notice that giant white explosion where the fish was supposed to be? We don't have an aquarium in our office, so I put Kyle, our new intern, in a glass conference room for a similar effect. He now has a glowing orb for an eye. Thanks, flash.
Shooting Gadgets, or Anything With a Screen
This one may be a bit of a tech blogger pet peeve, but please, turn off the flash before taking pictures of your gear, especially if it has a screen. Even the brightest, matte-est screens act as flash mirrors, as do all manner of plastic and metal finishes. It's nearly impossible to take a good photo of a gadget with your flash on, and there's rarely a reason to: Gadget generally won't move unless you tell them to, so find a way to stabilize your camera and treat your subject to a nice, loooong exposure. On point-and-shoots, this usually requires nothing more than manually turning off your flash and staying in auto mode—the camera will figure out the rest.

On Anything That Isn't Moving
Know what I said about shooting gadgets? Honestly, it applies to all inanimate objects, and even animate objects, assuming you get get them to sit still enough. Set your camera on the table, prop yourself against a tree, make an improvised monopod out of a lamp—if your subject is still, the only person to blame for not turning off your flash is yourself.

On Humans
It's not a hard rule, but it's a good guideline: built-in flash units emit whitish xenon light, and generally make your subject look like a malnourished villager from medieval Europe, often with horrifying red pupils. If you can help it, avoid the flash. (If you can't, we've got some tips below for making your shots look less ghostly.) Photo by Flickr user busbeytheelder
In a Baby's Face
Because as adorable as this overdramatic baby is, flashing blindingly bright light into your newborn's pupils seems like bad parenting. And babies don't usually move too fast.