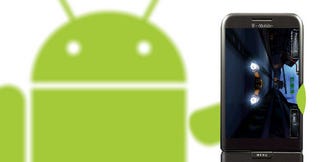 It's been a pretty wild month (or so, since it's been a while guys) for Android apps. Donuts and music and people and Heroes and space cars are flying all over the place:
The Best
Pandora: Pandora the music streaming service comes to Android, finally. There's really no reason not to know what Pandora is at this point, but for the uninitiated, when you enter a song or artist, it'll create a playlist of similar stuff that you'll (probably) like too.

Foursquare: Foursquare's a location-based social networking service (yawn, 'cause there's a million of 'em, right?), BUT you get points for going places and checking in, and there are Xbox Live-style achievements, so it gives you an excuse to go out a lot, and to pull out your phone instead of actually talking to the people you're there with. "Hold on, I just need to check in." "Didn't you check in 20 minutes ago?" "Uh..."

Facebook: Another "at last" app, an official Facebook app is one of those little symbols that Android's legit. While it's not nearly as visually impressive or feature-packed as the latest iPhone version, you can actually get a constant stream of updates, so you always feel connected, anyway.

OpenTable: OpenTable is favorite way to grab a restaurant resys without actually resorting to picking up the phone and talking to a real human being. In New York anyway, a ton of restaurants participate, so the service is pretty excellent, especially since you can see real-time availability for tables at particular times.

Amazon: It came out back in early August, but we haven't highlighted it yet, so I'm talking about it anyway. Why? Because it's the easiest way to impulse buy crap you don't need from a phone, or to talk yourself out of paying a full brick-and-mortar store's price for something, since you can see right there it's cheaper on Amazon. Plus, it's got barcode scanning for finding stuff on Amazon. If Newegg releases an app like this, I'm pretty much screwed. Image via Lifehacker