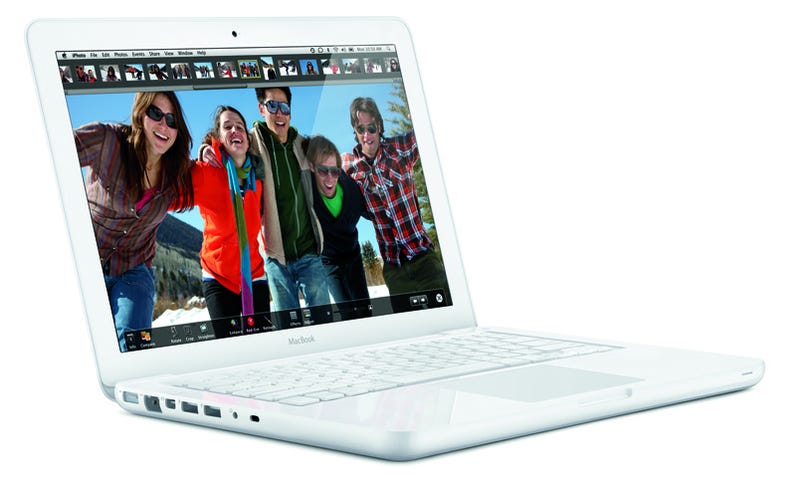 At the center of today's minor product explosion, Apple's refreshed $1000 White MacBook is the only right-fielder: It's got a rubberized bottom, multitouch trackpad, LED backlighting, the MacBook Pro's non-replaceable battery, and healthy spec bumps. UPDATED
The multitouch trackpad and LED backlighting feel like necessary catch-up—they're less like "Pro" perks than they are standard technologies, so it's good to see them trickle down. Likewise, the spec bumps basically just keep up with inflation: the processor jumps from 2.13GHz to 2.26 GHz, the HDD from 160GB to 250GB, while the 2GB of DDR2 RAM has been swapped for the same amount of slightly faster DDR3 memory. And in the same divisive trade the 13" MacBook Pro made a few months back, the old removable battery has been switched out for the non-replaceable 7-hour unit.
There was talk of an industrial design overhaul back in August, and that's what this refresh is really about. The bottom is now entirely rubberized, which seems to serve two purposes: One, to bring something, anything, visually new to Mac's unwittingly retro baseline laptop; and two, to bring some semblance of durability and friction to the the case, which to anyone who's watched a marred, scratched polycarb MacBook effortlessly slide off their corduroys onto the tile floor, probably sounds like a great idea.