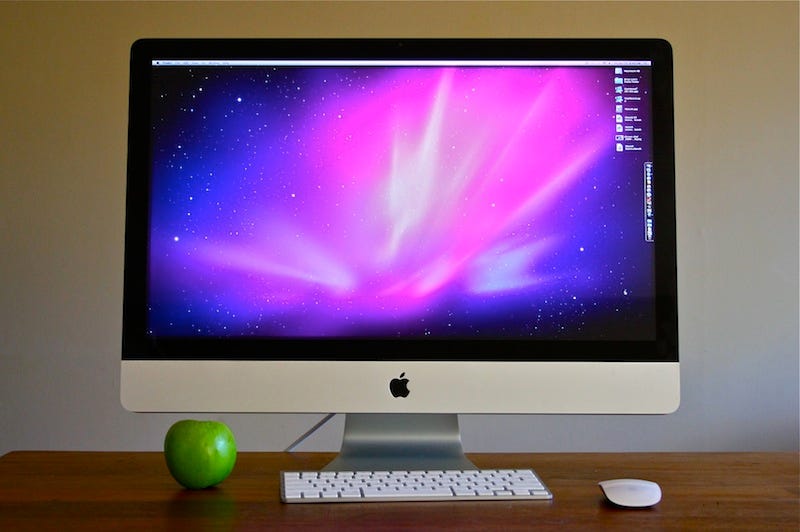 In the 10+ years since the iMac was born as Apple's simple computer, it's become visibly less of a computer and more of a display. And what a screen this new iMac has.
But First, Simplicity

This 1998 ad has Jeff Goldblum narrating that there are two physical steps to setting up an iMac. ("There's no step three!") Truthfully, they skipped the mouse and keyboard cable, though, which would bring it to 4 steps. Today, an iMac is set up using just one power cable, depending on wireless networking and bluetooth peripherals to get the rest done. So it's even simpler than it was 10 years ago. And as I said, the screen is becoming more prominent than ever.
The LCD
The 27-inch iMac's screen is the thing to focus on in this revision. It is practically as bright (and more contrasty) than any of the previous iMacs—even Cinema Displays—and it looks astounding. It's LED-driven so it comes to full luminescence immediately and takes up less power. It also has better side-to-side viewing angle as an IPS tech monitor; like the iMac 24 before it, it goes 178 degrees without much change in color accuracy or brightness. And here's the kicker: Although it has 19% more area of LCD than the old 24-incher, it has 60% more pixels. That makes it more pixel dense than any of the Cinema Displays at 109ppi. And with a 2560x1440 resolution it has 90% of the dot count of a 30-inch cinema display. All these stats are great. They sound great, and they make for a powerful picture. But the actual view of the screen leaves me with a positive—but slightly imperfect—impression.
The default brightness is a bit much, but of course you can turn it down. And the contrast is welcome; even my new 13-inch MacBook Pro looks yellowed and washed out next to it. But at this pixel density, which is sharper than my notebook, it's almost too sharp, requiring me to sit closer than I would ordinarily do with a 27 inch display. I like the feeling of crispness — 16% crisper than the last generation. But my eyes feel like the pictures are being delivered by a land shark holding a laser pointer straight into my corneas, and I can feel the strain within minutes. I would have to jack up as many font sizes as possible or sit as close as I do to my MacBook to make it work for long long periods of time. Maybe I'm just a wimp of a geek, but I've never been sensitive to these sorts of things on any sort of machinery before.
This is the iMac next to a 13-inch MBP and a Dell 2407 24-inch monitor. The iMac's screen puts both to shame in brightness and clarity.
Apple is making a big deal of the fact this screen is 16:9. I think it looks better in this wider iteration, but it's not an epic jump since the last gen was 16:10. You're losing vertical pixel count here, on both the 21.5 and 27-inch models, despite added diagonal inches. Also, the glass cover is now edge to edge, without the thin silver rim around it, on the top and sides. It's still glossy and very very reflective, despite being covered in anti-reflective coating.
I will feel guilty for mentioning this, because it's ever so slight, but I'll feel more guilty if I don't mentioning it to you: The screen, when it's white, has the tiniest bit of blotchiness to it. The backlighting is slightly uneven in my model. It had no impact on viewing quality once the screen was filled with an image other than one of pure white, so don't sweat it.
My previous comparison to the 30-inch Cinema Display wasn't for academic purposes, either. One of the most interesting features on the new iMac is that it can use its Mini DisplayPort (normally an output) as an input; that is, it can become a secondary display for notebooks or other devices. Factor in the near-identical specs to the 30-inch Cinema Display, most notably its updated LED screen, and you have absolutely no reason to buy a 30-inch Cinema Display when you can have this—but not just yet.
That's what two full sized 1080p trailers look like on this screen.
Eager to test this shit and be the first to the internet with an image of an Xbox linked into an iMac ("Worlds collide!" would be the headline, I decided), I ordered a monoprice Mini-DisplayPort-to-HDMI adapter. Unfortunately, I discovered that the inputs would not work with a PS3 or Xbox at any res, HD or otherwise. The current adapters on the market are unidirectional, I was told, and so they won't work to take HDMI sources and pipe them into the iMac. I'm sure someone is making a cable as we speak for this very abominable purpose of piping in Microsoft gaming to a desktop Mac—but it's not here yet. (New cables, by the way, will include audio, which the iMac is capable of taking through its connector and the iMac is able to display video sources up to its native resolution.) The issue is, this could take months. That's a long time, so don't buy an iMac planning to use it with a gaming console or Blu-ray player right away.
Using it with a laptop was an interesting situation. Odd, for sure, but a welcome bonus and an obvious use. Here's how it works. You plug in a Mini-DisplayPort-to-Mini-DisplayPort cable to the iMac, which must be turned on (unlike Sony's all-in-one, which works while off.) The iMac flickers for a second and the laptop's picture replaces the iMac's. Here's where it gets sort of weird. When the iMac is acting as a monitor, the keyboard and mouse are all blocked from working, except a few keys: The pause/play, FF, RR, volume controls and brightness keys all work. They won't display the typical volume/brightness/FF/whatever iconography, because you're actually still looking at your MacBook. You can actually then use your iMac as a display for one computer while listening to music on another—but why would you want to? And if you were playing a game with an Xbox, you'd be listening to the game. To toggle between the iMac and the external source, you hit Command+F2.