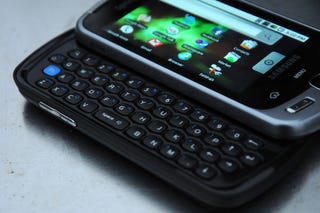 The Samsung Moment is the first Android phone trying to be special purely through hardware: It's got a really rich AMOLED display, a gigantic keyboard, an 800MHz processor (the fastest yet for Android) and it's on Sprint's sturdy 3G network.
While the specs might make you dizzy, there's absolutely nothing unique about the software. It's running a totally stock build of Android 1.5 (Cupcake) with some standard Sprint software tossed in, like Sprint TV, Navigator, apps for Nascar and football, and Exchange support through Moxier Mail. So, we're mostly gonna talk about the hardware here, since otherwise it's nothing you haven't seen before.
800 Whole Megahertz
The single biggest expectation for the Moment, and its rip-roaring 800MHz processor, is some zoomzoomzip speed in Android, which ain't known for being the fastest smartphone OS around—largely, you would think, because every Android phone currently on the market is strapped with basically the same 528MHz ARM11 processor (the Moment's also using an ARM11 processor, though one built by Samsung, not Qualcomm).
Despite the extra clock speed, a turbocharged Android this is not. Some parts of the experience are smoother—transitions between apps stutter less, and less often, for instance—and it boots faster than any other Android phone I've used, but there's no serious extra pep in the OS. In fact, a lot of the same slowdowns that've become a hallmark of Android are present: The app menu often (but not always) lags as pull you it up, and those random moments where the phone just won't respond to keys your tapping or your finger madly pounding on the screen still happen, just like on other Android phones. I was hoping it would be more than a little better (seriously, hanging while I'm just typing in Google Talk?), especially since it's running a vanilla build of Android without any fancy overlays on top of it, like the Hero or Cliq.
I suspect it would run faster and better on Android 1.6, which might take greater advantage of the bonus horsepower, but it's not shipping from Samsung until sometime in 2010.
AMOLED Makes Me Blue
The AMOLED display is stunning in some respects—it's incredibly saturated, blacks are gorgeous and it makes other Android displays look pale and washed out. There are two problems: It's not very readable in the sunlight (just like the Zune HD, which used an OLED display), and it's very blue. At first, I thought it was just a tendency of OLED displays to be this cool, but this is what it looks like compared to the Zune HD: