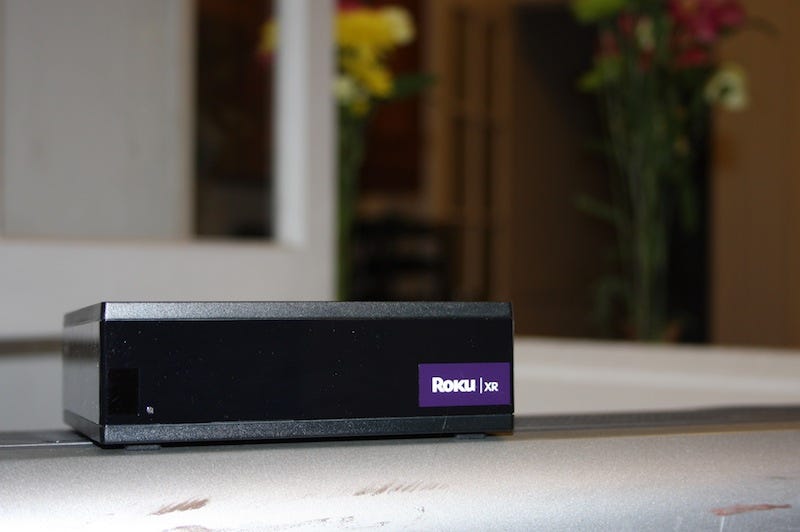 Roku updated the lineup today with two new models bookending the current Roku HD: The $80 standard-def SD and the $130 HD-XR, which I tested. It's solid, but still needs a firmware upgrade (coming soon) before it feels truly next-gen.
Before we get into the HD-XR, there's the other new model to introduce. The low-end Roku SD is pretty much a stripped-down version of the current Roku HD model, appropriately enough. It has Wi-Fi b/g and Ethernet, but only offers composite output—no HDMI, component, S-video or optical audio out, all of which the Roku HD has. The SD offers just standard-def streaming to go along with its standard-def output, and retails for $80 (the HD, in comparison, sells for $100). Both the SD and HD-XR are crammed into the same small, fanless case as the HD, so they're all the same size.
The HD-XR is Roku's new high-end model, selling for $130: In addition to everything the Roku HD has, the HD-XR is packing 802.11n Wi-Fi and, intriguingly, a USB port. But therein lies the problem with the HD-XR, and the reason we're bringing you a hands-on and not a review today: The USB port doesn't do anything. Yet.
Roku tells me that they've got some substantial additions coming to their service via automatic firmware upgrade in "the coming weeks." First is the Roku Channel Store, which "will offer a number of new content channels for the Roku player, many of which are free." This comes in addition to the currently offered Netflix (duh), Amazon and MLB. What could the new channels be? We'd say Hulu is a fair bet, given past rumors. Other dedicated streaming sites like ABC or MSNBC wouldn't be out of the question either, and since everybody's doing it, I wouldn't be surprised if Facebook and Twitter come to invade your tidy little Roku box.