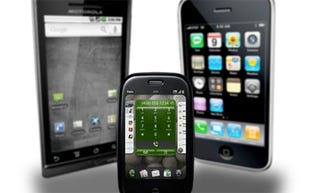 The Droid, and Android 2.0 as a whole, isn't going to kill the iPhone. That's ridiculous. Teamed with the iPhone, though, it just straight up murdered Palm—the same way that Microsoft brought Apple to its knees decades ago.
Reviews aren't even hitting yet, but the early consensus is clear: Android 2.0 is the first version of Google's OS that's really grown-up. And now, with hardware like the Droid and the Hero, it's not just a technological triumph, it's the kind of thing that people—and not just leery, jaded tech blog readers—can connect with, and actually use. This is huge for Android.
iPhone OS is already a superpower with massive adoption, a huge app store and a bright future. They're not going anywhere. They learned their lessons about the importance of volume and apps when I was still a kid. But what about the other two smartphone players that consumers really love? You know, Google vs Palm? Think Apple vs Microsoft, circa the late 80s.
Hear me out: With version 2.0, Android is sitting on the cusp of greatness. And Palm? They've got a nice OS, but with just two handsets and a tiny user base they're up against a wall. Google is old Microsoft: They've got a open development platform, tons of hardware partners. They're going to start having problems with this strategy—you know, fragmentation, device support issues, etc—but as with Microsoft, it's going to serve them well, and make them huge. Palm is old Apple: With inhouse hardware and iffy developer support, they're just insular. What that means:
• Hardware partners: Who isn't developing an Android phone nowadays? Motorola, Samsung, LG, Sony Ericsson, and HTC dwarf Palm's hardware partner list, which consists of "Palm." Don't get me wrong, the Pre and Pixi are nice pieces of hardware—like Apple always had—but it's tough to compete with such a broad lineup with just two devices, both of which are somewhat polarizing. Android is the new Windows Mobile, but in a good way.