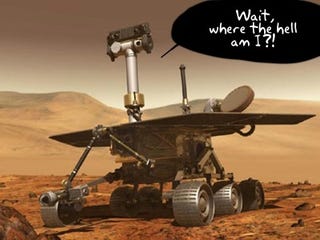 We hadn't visited the NASA Mars rovers in a while here at Gizmodo, so I thought I'd take a look today and see what they're up to. Unfortunately, things could be better.
You see, while Opportunity continues to function nominally after nearly six years on planet, its companion Spirit, on the opposite side of the planet, is really showing signs of age.
As we all know, Spirit has been stuck in deep Martian sand for some time now. That hasn't changed. What has changed is the rover's memory. It's going. NASA scientists are calling the issue "amnesia," and it isn't the first time this phenomenon has affected the rover.