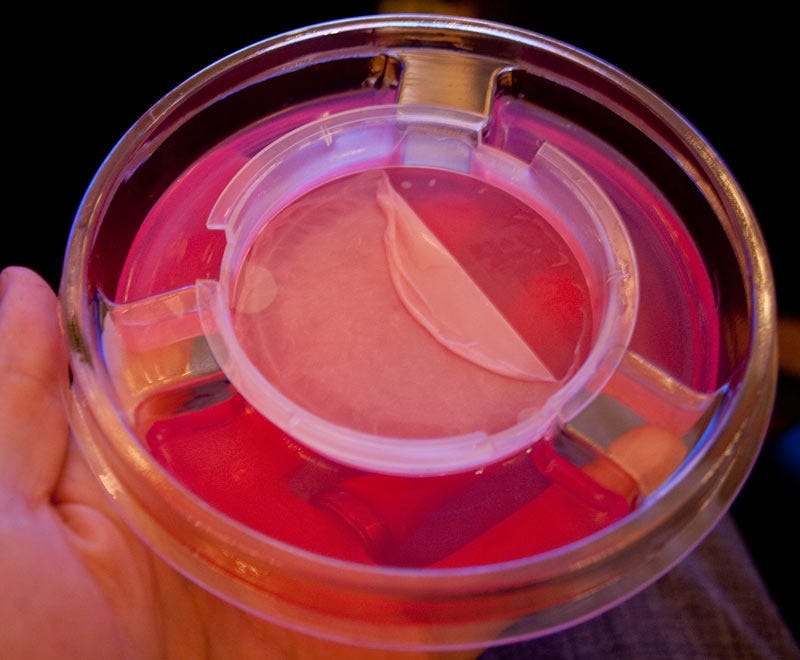 I'm touching a wet slab of protein, what feels like a paper-thin slice of bologna. It's supple, slimy, but unlike meat, if you were to slice it down the center today, tomorrow the wound would heal. It's factory-grown living tissue.
The company behind the living, petri-dish-grown substance known as Apligraf hates my new name for it: meat band-aid. "It's living," Dr. Damien Bates, Chief Medical Officer at Organogenesis, corrects me. "Meat isn't living."
But no one argues with me that this substance is really just a band-aid. A living, $1500 band-aid, I should say.
Apligraf is a matrix of cow collagen, human fibroblasts and keratinocyte stem cells (from discarded circumcisions), that, when applied to chronic wounds (particularly nasty problems like diabetic sores), can seed healing and regeneration.
Unlike the research of Dr. Atala that we explored yesterday, Organogenesis is not interested in creating boutique organs for proof of concept scientific advancement. They're a business in the business of mass tissue manufacturing—and the first of its kind. So when researchers like Dr. Atala develop their science to a threshold of duplicable outcomes, companies like Organogenesis will be scaling the process into Ford-esque mass production models.